The Department for Transport (DfT) has backed calls for the 35% of highway authorities that do not have permit schemes in place to consider introducing them.
An official government review found that permit schemes provide a range of benefits, including the fact that road and street works are on average completed more quickly than under noticing. The greatest impact related to major works completed by statutory undertakers, with an average reduction of 3.19 days in the time taken.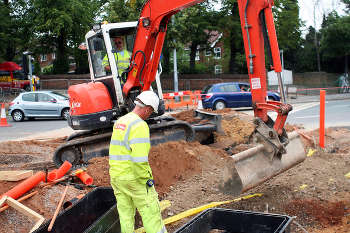 The DfT, which commissioned Ecorys UK to carry out the review, said it supports its central recommendation and would be working with the Highway Authorities and Utilities Committee (HAUC) (England) 'over the coming months' to consider all of the recommendations.
Roads minister Jesse Norman said: 'Roadworks are the bane of drivers' lives, causing delays and costing the UK economy £4.3bn a year.
'Permit schemes are proven to reduce the length of roadworks, allowing motorists to have fewer disrupted journeys and reducing the burden on businesses.
'More councils should look at adopting permit schemes, as well as lane rental schemes in due course.'
The review sought to test a number of assumptions around permit schemes, which give highway authorities the ability to proactively manage all street works as a way to reduce and control associated disruption and can now be implemented without ministerial permission.
These assumptions included that authorities would use the levers permit schemes provide, leading to improved co-ordination and shorter works durations.
Using a 'counterfactual' impact evaluation that compared outcomes for a matched sample of works completed under both permitting and noticing regimes, the review found that works completed under a permit scheme were, on average, completed in a shorter time than works completed under noticing.
The finding that permitting shortens the duration of works was supported by a survey of highway authorities, in which 83% agreed or strongly agreed that their permit scheme had led to a reduction in the duration of the works, and interviews undertaken as part of the evaluation.
'Interviewees did acknowledge, however, that at LHA [local highway authority] level it is difficult to robustly demonstrate this effect in quantitative terms, in part because of the influence of other factors such as changes in local policies or fluctuations in promoter activity.'
The review's analysis of works data showed an increase in the recorded volume of works following the introduction of a permit scheme 'due, at least in part, to the requirement for a permit scheme to apply to the LHA's own works as well as statutory undertakers'.
It added: 'Furthermore, counterfactual impact evaluation shows that works were less likely to over-run when completed under a permit regime, except for standard and major highways works. These findings imply that permit schemes provide LHAs with more control over their network, which the LHA interview findings [also] support.'
While promoters (those carrying out the works) expressed concern about attempts to influence their duration or their approach to the work, authorities interviewed 'felt they had taken the time to consider the specific features of each job to inform this challenge'.
On the development and operation of permit schemes, the review states that evidence from a survey and interviews with highway authorities 'suggests that the decision to explore the introduction of a permit scheme is typically prompted by a need to reduce disruption and improve control of the road network' and suggests that these outcomes are largely achieved.
It adds that both highway authorities and promoters interviewed felt that there will be a continued upward trend in the number of LHAs operating a permit scheme.
The DfT confirmed that it will issue guidance on lane rental schemes, which can complement permitting, later this year. It added that more detail on transport secretary Chris Grayling's plan to make the footway the default location for new utilities 'will be revealed in due course'.