The Government has launched a consultation on major road works reforms, representing the final changes before the public launch of its new £10m Street Manager digital platform to plan and manage works.
Street Manager has been available for local authorities and utility companies to use in a private Beta environment since May 2019 and will be available via public Beta from November 2019.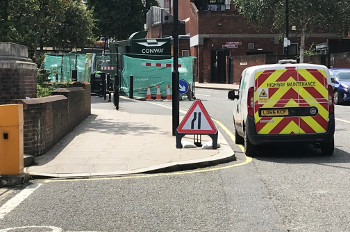 The plans would make it law from next April (2020) for local authorities and utility companies to have to use Street Manager, which is expected to save users millions every year compared to the current Electronic Transfer of Notifications (EToN) system, which has been around in various forms since the 1990s.
The reforms, which only apply to England, will help establish a unified, digitised system for booking and administering local road works and street works under nationwide take-up of the permit scheme system.
The Department for Transport states that following instructions from the secretary of state, by early 2020 almost all local authorities will be operating a permit scheme and 'we expect that all of them will have a scheme by the end of 2020'.
English local road network is subject to an estimated 2.5 million road works each year costing the economy around £4 billion.
A user group will be set up to oversee the continuous improvement and the service development of the new system, which will include representatives from the Joint Authorities Group and Street Works UK.
The deadline to respond is Friday 13th September 2019.
Charges
Organisations will be asked to contribute towards the cost of Street Manager from April 2020.
From 2020 onwards it will cost around £2.6m for local authorities (non-business) and £1.1m for utility companies and contractors (business). This compares to £5.5m and £6m respectively under EToN licence and additional services.
Under the DfT's plans a new charging regime will be set up based on a transactional or banding model, 'so that heavy users pay more than light users'.
The consultation states: 'It will be on a cost recovery basis, with all charges being used to cover the cost of service support and improvement of street manager.
'We have proposed a charging band system for 2020/21 that is based on current estimates and works out at an average charge of £17,000 per organisation per year. These are estimates that will be updated once the procurement for the ongoing service support and improvement has been completed. From April 2021, we will use data from street manager to develop a fair transactional charging regime.'
The consultation states that this plan, which requires secondary legislation, would be the simplest method; however it does present an alternative.
This would involve the DfT charging local authorities an additional element for every permit issued to utilities, and to raise the maximum permit fee allowed in regulations so that authorities could recover these costs from utility companies.
'This would, however, be an additional administrative burden for authorities and it means that the charging regime would be based on permit numbers rather than any other basis we might agree is more desirable. It would also restrict any flexibility to change the basis for charges.'
Legal and regulations changes
Communications and fixed penalty notices
With only certain exceptions, the DfT wants to ensure street works communications and fixed penalty notices should only be sent via street manager and that all street works registers and permit registers should be held centrally on street manager.
'We also propose amending the 2007 FPN Regulations so that fixed penalty notices under the 1991 Act must be served via street manager'.
Major works
DfT wants to amend the definition of 'major works to remove the words 'which have been identified in the annual operating programme of an undertaker'.
This to prevent works promoters avoiding submitting forward plans for fear of being charged extra or being subject to longer notice periods.
Deadlines
In order to make sure works notices are a real time as possible, DfT has proposed amending the deadlines for notification in regulation 6 of the 2009 Charges Regulations so that "actual start of works notices", "works clear notices" and "works closed notices" must be given within two hours of the works having commenced/completed.
Permit scheme changes
The consultation also outlines changes to the basic conditions and nature of permit schemes themselves. These are set to be controversial and include a preference for utilities to be placed under the pavement rather that the roadway and reducing the time before 'substantial' road works can be carried on newly resurfaced roads.
Footway first
The DfT aims to create a new condition that would create a presumption in favour of laying utilities under the footway, while also giving due consideration on the impact on street trees and national infrastructure projects such as internet cabling.
The condition would be: 'Unless the Permit Authority consents to the placing of apparatus under the carriageway including to assist with the roll-out of national infrastructure projects or to enable urban greening and street trees, it is a condition of this permit that activities placing new apparatus underground should, where possible and practical, be placed under the footway, footpath or verge.'
New carriageways
There are current restrictions on 'substantial' road works in newly resurfaced or reconstructed roads in order to protect the local road networks and local authority investments.
However the DfT seeks the following proposed changes to the timeframes for substantial road works:
Three [down from five] years in relation to substantial road works involving reconstruction.
Two [down from three] years in relation to substantial road works involving resurfacing or an alteration in the level of the highway.
One [no change] year in relation to any other substantial road works carried out in a traffic sensitive street or a street in reinstatement road category 0, 1 or 2 which is not a traffic sensitive street.
Six [no change] months in relation to any other substantial road works carried out in a street in reinstatement road category 3 or 4 which is not a traffic sensitive street.
Temporary traffic lights
The DfT aims to clarify when temporary traffic signals should be removed, 'whether manually operated or not'.
The change would mean that 'it is a condition of this permit that activities using portable traffic signals must have the signals (whether manually operated or not) removed from use as soon as possible and no later than four hours after completion of works irrespective of day of completion'.