A set of 'Golden COVID-19' rules created by the Highways Sector Council (HSC) gives specific guidance for worksites with calls to 'accelerate major maintenance and deliver shovel-ready essential highway projects'.
The latest rules were developed under HSC's Project SafeStart guidance to help the sector continue working through the crisis and the recovery after.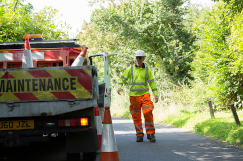 Earlier this month, transport secretary Grant Shapps wrote to HSC to thank them for their work on Project SafeStart and advised that officials had been instructed to work closely with them.
He said: 'With regards to next steps, I would suggest that members of the Council continue to work in close collaboration with highway authorities to ensure that projects and programmes can be delivered and where possible, accelerated.'
Seen by Highways, the new rules call for a range of specific actions which had not been released under previous briefings.
The document states: 'All effort should be made to 'accelerate' and 'bring forward' major maintenance and deliver 'shovel-ready' essential highway projects. This should include the delivery of multi-modal shift schemes for public transport and/or promotion of cycling and walking in line with the Government and DfT policies, further to the allocation of £250m by the DfT for this purpose.
'Use the relaxation in TTRO rules to permit fast re-programming during the COVID-19 period if needed,' the golden rules advise.'
HSC also suggests joint local authority and delivery partners create and follow a detailed plan with respective supply chain sub-plans (suppliers/builders merchants etc.) agreed in advance – including a targeted PPE requirement for the works package or project.
Specifically for site work, the rules call for the creation of a 'sterile' perimeter to enable 'closed' work sites.
Contractors are advised to 'create a 2.0m 'sterile zone' perimeter where there are any potential public interface points' and to not allow any public crossing points through work areas or job sites.
A full closures of the road and footway is advised 'wherever possible for the duration of the works', as well as permanent traffic management presence with, if possible, one additional 'security officer' on site to ensure public control on the works site at all times.
There should be a 'dedicated individual responsible for COVID-19 control, ensuring all site/depot based welfare is kept to a scrupulous standard at all times, each operative is allocated additional PPE and hand washing facilities with hand sanitiser are always available'.
No works should be planned on any primary emergency routes for hospitals and military COVID-19 logistics or on primary logistics routes for NHS for the time being it seems.
It is not clear when this restriction would be lifted after lockdown but police and emergency services should be kept fully informed at all times.
Head of local roads at the Department for Transport, Steve berry, wrote to key figures in the sector stating project SafeStart represents an effective way to restore local highway maintenance to pre-COVID-19 levels and 'to also bring forward works - which would achieve the works acceleration that the secretary of state wishes to see'.
'The detail of Project SafeStart does not preclude other planned maintenance activities but it is intended to be used as a sensible guide in these times, where we all have to adapt former ways of working and to help minimise the risk of COVID-19 transfer. You may find this information of interest and, of course, it will be entirely for your authority to consider.'
As previously revealed by Highways, the strategy is based around a tiered approach to highway maintenance:
'Tier 1' is 'critical' activity, in line with statutory duties (consistent with 'out-of-hours' activity)
'Tier 2' is 'essential' activity across all strategic and local authority highway networks
'Tier 3' work comprises a mix of major maintenance (i.e. preventative or restorative maintenance work) and "shovel-ready" essential highway projects that every local highway authority should seek to proceed with.
HSC provides a list of what works fall into each category.
Achieving all three tiers of work equates to a virtual business as usual approach – or 'adapting to a new norm'.
The golden rules' advise 'no restricted hours' and full-day shifts or full night shifts on weekdays, although weekend working is to be avoided unless a specific location is best suited for weekend works.