Scotland is on the verge of a breakthrough in road management that could change the entire industry and provide major pain relief for some of the headaches officers and politicians go through daily. Dominic Browne reports.
The Society of Chief Officers of Transportation in Scotland (SCOTS) has been working on plans to take asset management to the next level, or two, for some time.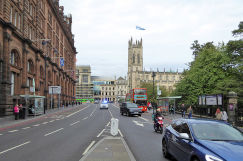 It started last year with a report considering the value of the local road network. This gave a rough figure of the network providing around £6bn of 'utility value' per year, based mainly on highways, transport and business cost data. The authors stressed the absolute value was immeasurable as its a key piece of national infrastructure. However, while the network is priceless – imagine a world without roads, streets, squares, or bike lanes - the policies attached to that network might soon be more measurable.
'Utility value' is only the first level in a proposed three-tier value pyramid. SCOTS has now secured public funding to develop phase two of this measurement framework. This next phase – again funded by the Scottish Roads Research Board - will look at 'social value' data at the second level, and at the top level, provide a predictive model to map 'future value' in response to different policies or foreseen changes in context.
The plan is to use publicly available non-roads datasets that would allow politicians to map policy outcomes across asset management areas linked more closely to socio-economic need.
As the model uses public, open data, it could potentially be fed into an API to create apps and plug-ins to existing asset management systems.
Derek Stewart, co-founder of Community Models and a former director at Amey has helped lead the project, working closely with colleagues at the Social Value Portal and Caledonian Economics.
He told Highways that the scheme would 'offer new layers of data to complement the likes of SCOTS' already very successful Road Asset Management Planning approach (RAMP)'.
For the first time, engineering and political decisions could become more fully integrated. Politicians could make decisions more like engineers, using a model to map out physical, economic and social impacts from their policies. In just the same way as engineers appeal to cold hard maths, politicians could focus on social hotspots based on demonstrated need. Similarly, engineers could draw on locally relevant data to provide socio-economic evidence to help bolster their proposals and recommendations.
SCOTS will be starting trials on the ground in Scotland in the next few weeks and hope to complete the work by the autumn. They are looking to test an early prototype across areas with enough variation to properly test the robustness of the concept, while also taking account of the unique issues certain areas such as islands or main cities might face.
Mr Stewart says: 'We want to look for initial data sets about social value that are consistently available across the country. The model needs to apply to everyone so we need data - social or environmental, for instance - that we can gather across every local authority. We currently have a long list that we need to convert into a shortlist'.
'We need the right balance. Too many and we dilute each of the data sets' individual values. Not enough, and the analysis is less meaningful, and the model of less value to those using it. There is a whole lot of data related to circumstance, that is not the critical role of the network. We are trying to come up with the common denominators where extra data sharpens the model not dilutes it so individual authorities can add their own data.
'In phase one [the report on 'utility value' last year] there was a big emphasis on the purpose of places, and the role of the network in supporting those purposes. Some places may be drop off points in longer journeys, others may be destinations in their own right. These purposes can change within a day, a week or a year. We need a model that reflects that dynamic.'
Data on inclusive growth, where economic growth has knock-on impacts on social outcomes, looks set to be at the heart of the system. Mr Stewart explains: 'The model needs to consider how the network supports local economic activity, but not in isolation from the social makeup of an area, such as access to services like health and social care and third sector operations. Inclusive growth captures that interplay between these economic and social factors.'
So how might the model work in practice? Firstly, Mr Stewart argues it would be 'anchored in pragmatism', with objective analysis supported by the professional understanding of the engineers using the model. There would also be consistent data sets for the bottom two layers of the pyramid. Then in the top predictive level, authorities could use reconfigured datasets to help model different policy variables and priorities.
Working within consistent parameters, there would be 'nuance around the edges, where you can't assume consistent direct causal links without understanding local circumstances,' Mr Stewart concedes. That's where the model supplements both local knowledge and professional expertise.
Highways asks about a potential weighting system that would assign different data sets different impact levels. Mr Stewart says: 'The weighting system is quite attractive; that really comes to the fore in future value level, so as your policy changes, you need to better understand the impact of those shifts on outcomes. This means different administrations can use different weightings/multipliers to reflect various projects and policy goals.
'More generally, we are not trying to look at a new traffic modelling tool, but a value management system. X are the costs, and you have Y to spend. How do you best intervene from a public policy perspective? If we develop the model correctly, then we should be able to generate a type of heat map illustrating the impact of different decisions on different critical local priorities.'
There is also the potential to model plus and minus factors; reflecting the fact that, sadly in the real world, programmes and scheme can have both positive and negative outcomes.
'Any intervention can have multiple outcomes … the key thing is to understand what's driving and impacting on these the most,' Mr Stewart agrees.
Angus Bodie - programme manager for the Roads Collaboration programme in Scotland - is the client's lead for the project. He adds that the new model could further enhance current transport appraisal approaches and help inform any future review of the Scottish Transport Analysis Guide (STAG).
As Mr Bodie puts it, the approach 'can help to further strengthen links between network planning and the needs of communities, but with a consistent application across Scotland'.
'Social value calculations aren't currently done consistently and can often be intuitive. The intent is to give politicians a simple methodology to support their prioritisation in their local area.
'We are giving elected members a tool, so they see both asset management - the lifetime value of the road - and its wider societal connections and implications. The members we have spoken to really value this concept. We have a tool here that can allow us to look at all modes and wider transportation interventions with a greater range of benefits.'
Mr Stewart and Mr Bodie point out that one of the impacts of the COVID-19 lockdown has been to generate 'baseline' traffic data linked to definitions of 'essential services' and 'essential journeys'. This provides an insight into what is most critical in terms of local network usage, both traffic types and traffic volumes. Looking at how this changes as we emerge from lockdown provides additional insight around value.
The sector will no doubt welcome a system that can help replace any current uncertainty with an approach that models the immeasurable value the asset. Perhaps most importantly for our readers, reducing ambiguity and removing unnecessary tension between elected members and officers would also be very welcome. Best of luck Scotland.