Revised plans for a controversial new bypass for Arundel on the A27 in West Sussex have been announced by Highways England and could see the cost increase by up to £200m.
The scheme had previously been budgeted at £250m; however the latest plans have a cost of £320m - £455m associated, according to last year's consultation documents.
A previous consultation ended with a Judicial Review, which showed evidence that 'something went clearly and radically wrong'. Highways England agreed to pay costs and launch a fresh consultation, which took place from August to October last year.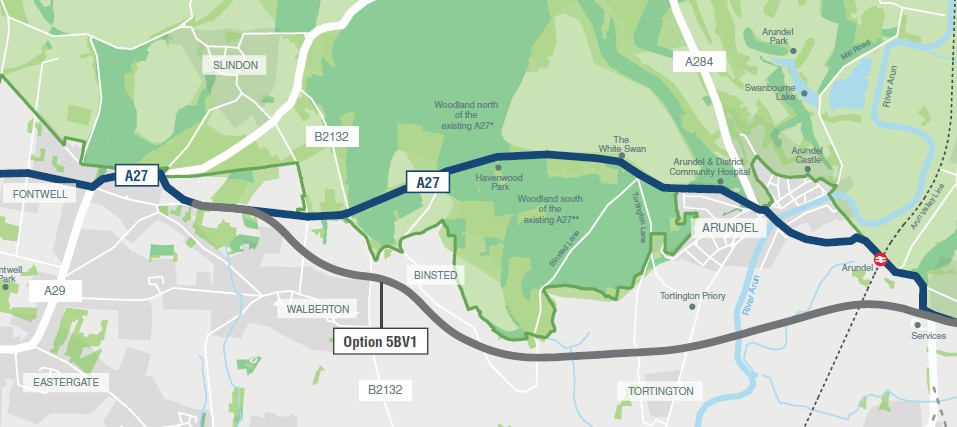 The latest plans include a new five-mile dual carriageway, which aims to draw traffic away from Arundel and reduce rat-running on minor roads through the national park.
The preferred route sweeps south of the South Downs national park and includes a new dual carriageway between Crossbush in the East and a new junction near Tye Lane in the west.
It will complete a missing link in the A27, 'and avoids the South Downs national park completely,' Highways England said.
Highways England chief executive Jim O'Sullivan said: 'The A27 is the only strategic east west route south of the M25. This new road removes the traffic from the centre of Arundel and provides faster more reliable journey times for users of this important road.
'We will continue to work with communities and local groups to further develop the project's design, so we can deliver a scheme that has as little impact as possible on the special environment and local people in and around Arundel.'
The A27 at Arundel is a regular traffic bottleneck, with 21,000 journeys made each day.
Transport secretary Grant Shapps said: 'Today's announcement is an important one, with another step being taken to delivering benefits in the region through what is now a long-overdue scheme.'
As well as improving journey times, the plans are designed to:
Make journeys safer - the A27 at Arundel has an above average collision rate. In the five-year period 1 January 2013-31 December 2017, 81 personal injury collisions, resulting in 121 casualties, were recorded between Crossbush junction to the east and the Fontwell (East) junction to the west.
Reduce congestion – the existing A27 through Arundel is operating at up to 150% capacity, with around 21,000 vehicles using the A27 through on a daily basis, this is predicted to increase to 26,300 by 2041.
Support economic growth – businesses across the region will benefit from efficiencies and improved journey times, while the additional capacity will enable the authorities to better manage population growth.
Cllr Keith Glazier, chair of Transport for the South East, said: 'This announcement is good news for people and businesses in the South East. A better A27 will improve journeys between some of our region's biggest cities and ports, supporting economic recovery and growth here in the South East and across the UK.'
Paul Marshall, leader of West Sussex County Council, highlighted that the council's preferred scheme for Arundel was along a different route (the magenta route).
'However, we will carefully examine the rationale for this decision and look forward to receiving further detail and information about the much-needed mitigation package Highways England will put in place to, as much as possible, limit impacts on residents and the environment,' he said.
He added that he understood the concerns of the people of Tortington, Binsted and Walberton and the surrounding area and 'I want to reassure them that I will continue to lobby government to make sure they get the support they need'.
Chris Todd, director of Transport Action Network, said: 'In the face of a climate emergency, the Highways England's response has been to bury its head in the sand and carry on business as usual. It insists building new roads won't compromise our ability to tackle climate change when all the evidence points otherwise. A low cost, low impact solution was available but it has steadfastly refused to consider this.
'With the need for traffic reduction as outlined in the UK Climate Assembly recommendations the case for a dual carriageway rapidly disappears. At a time when the public purse is under serious pressure, this road doesn't stack up in economic terms, let along environmentally.'
Next steps:
2021 submit application for a Development Consent Order under the Planning Act 2008
2022-23 subject to approval, start construction