Central Government has outlined its vision for creating an extensive public charging infrastructure across the strategic road network (SRN).
Following a detailed analysis to assess the number of chargepoints required, the Department for Transport found there were a total of 809 open-access rapid chargepoints on the network as of 1 January 2020.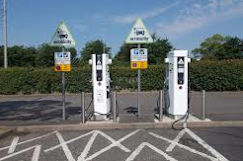 This means a driver is never more than 25 miles away from a rapid (50 kilowatt) chargepoint anywhere along England's motorways and major A roads with an average of two at motorway service areas, the Department for Transport said.
By 2023, the government hopes to have at least six high powered, open access?chargepoints (150 - 350 kilowatt capable) at motorway service areas in England, with some larger sites having as many as 10-12.
'We are confident this will be more than enough to meet demand from electric vehicles by this date. These high powered chargepoints are able to charge up to three times faster than most of the chargepoints currently in place, and can deliver around 120-145 miles of range in just 15 minutes for a typical electric vehicle,' DfT said in a statement.
By?2030, DfT is planning for there to be around 2,500 high powered chargepoints across the SRN and by 2035, around 6,000 high powered chargepoints.
Ministers will work with the operators of major service areas to help ensure that this charging provision is in place ahead of customer demand to support early adoption of electric vehicles and remove range anxiety.
Drivers using the chargepoints will be able to pay using debit or credit card payment and information about the chargepoints on motorways will be openly available.
Drivers will also be supported by 24/7 customer care to handle any technical issues and sites will have chargepoints that support all types of electric vehicles. Pricing information will be available in pence per kilowatt hour.
The government has not outlined any commercial arrangements, but it has committed financial support where installing a chargepoint would not be commercially viable.
In the March 2020 Budget, the Government announced a £500m commitment for EV charging infrastructure over the next five years to ensure 'that drivers will never be further than 30 miles from a rapid charging station'.
This cash includes a Rapid Charging Fund to help businesses with the cost of connecting fast charge points to the electricity grid.
The Fund will provide a portion of costs at key sites across the SRN where upgrading connections to meet future demand for high powered chargepoints is prohibitively expensive and not commercially viable.
However, the government has not established the timing and process for delivery of this funding.
The Automated and Electric Vehicles Act brought in regulations to improve the consumer experience of using electric vehicle charging infrastructure and to ensure levels of chargepoint provision at key sites such as motorway service areas, if necessary.
Whereas on the local network where planning permission could be beset by a range of issues, securing places to put the chargepoints on the SRN should be straightforward.
For a typical electric vehicle with a battery size of 62kWh, and a range of 200-240 miles, a 15 minute charge at a 150 kilowatt chargepoint would deliver a range of 120-145 miles.