The Government has successfully defended its £27bn plans for Highways England's second Road Investment Strategy (RIS 2) from a High Court legal challenge after the judge dismissed an application for a judicial review.
The Transport Action Network (TAN) was challenging the Government's approval of RIS 2 on climate grounds and was given a hearing in the High Court on 29-30 June, with the judgement handed down this week.
Lawyers for TAN argued that the transport secretary, Grant Shapps, had not taken proper account of the UK's environmental commitments or assessed the additional carbon emissions and climate impact of the plans which would add a further 4,000 miles of road capacity.
However, Mr Justice Holgate ruled that Mr Shapps had received a 'briefing, albeit laconic,' which was 'a legally adequate precis' of the situation, saying the policy was consistent with net zero targets, based on a comprehensive programme of analysis.
The judge added that 'on matters of political and economic judgement a claimant for judicial review bears a heavy evidential onus to establish that a decision was irrational, absent bad faith or manifest absurdity'.
He concluded 'that the government is taking a range of steps to tackle the need for urgency in addressing carbon production in the transport sector - whether they are enough is not a matter for the Court'.
The campaigners' lawyers have appealed against the judgment and are crowdfunding for further legal costs.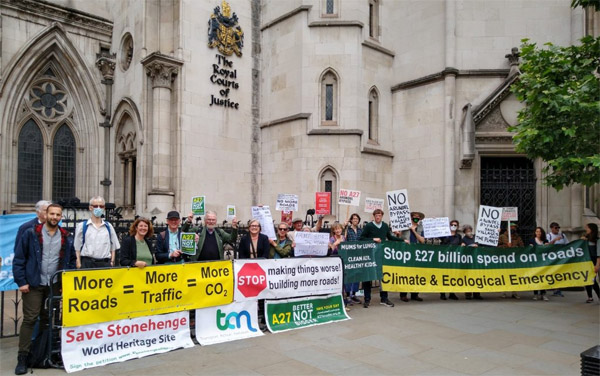 Chris Todd, director of Transport Action Network, said: 'The judgment has failed to grapple with the clear requirement created by Parliament that ministers must carefully consider environmental impacts. He reasoned that the more important the decision, the less a court should be willing to scrutinise decision-makers. This will surely send shivers down the spine of anyone hoping for urgent action on climate.
'Even if rising waters were lapping at the steps of the courts and Whitehall, it appears scrutiny of government climate decisions would still be side-stepped. As the quickening pace of global heating threatens the rule of law, we need legislation upheld rather than ministers let off the hook.'
A separate legal challenge to the national policy statement that underpins roadbuilding remains live, despite the Government pledging to review the policy before the end of 2023.
As a result, Government sources were reported to have briefed the press that it would settle the case, although the policy will remain active until the results of the review.