'Innovative' Vehicle Activated Signs (VAS) from SWARCO are helping to reduce accidents at a notorious road junction in Derbyshire.
A crossing on the busy A619 Troughbrook junction near Chesterfield has been the scene of a number of incidents in recent years, prompting the county council to find an accident-prevention solution.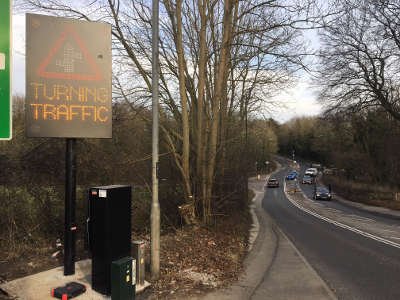 SWARCO Traffic Ltd recommended a system comprising two VAS with above ground virtual loop detection. Thermal imaging cameras detect the heat signature of vehicles waiting to cross the main road. Once a vehicle occupies a pre-set detection zone for a certain period, a fixed warning message is displayed to alert oncoming vehicles of traffic turning.
A warning message is also displayed when an oncoming vehicle exceeds a pre-set speed threshold.
Derek Williamson, head of sales and business development at SWARCO said the use of above ground detection was an advantage. He said: 'It removes the issues previously experienced with having to replace costly inductive loops caused by road surfaces deteriorating or being re-placed. The thermal imaging of the cameras also provides a much more reliable detection rate of vehicles than that of previous video detection cameras.'
The LED signs and control cabinet are hardwired with new replacement cable throughout, utilising existing ductwork. Derbyshire CC carried out its own civils works and SWARCO provided traffic management throughout the project.
The system is managed remotely using the SWARCO remote monitoring system already installed for the council. The installation of a controller cabinet also facilitates maintenance with access available at street level, thereby negating the need for expensive temporary traffic management and creating a safer working environment for engineers.
Mark Hewitt from the council's Traffic and Safety section said: 'The electronic junction warning signs play a key role by advising approaching vehicles of turning traffic at the junctions.'