Highways England could face a corporate manslaughter charge over the death of passenger from a broken down vehicle on an all lane running 'smart motorway'.
At a pre-inquest hearing into the death of Nargus Begum, senior coroner Nicola Mundy said she would consider referring the government-owned company to the Crown Prosecution Service (CPS).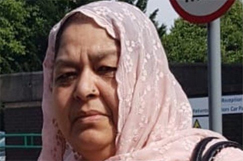 Ms Begum (pictured) died in September 2018, after a car being driven by her husband broke down on the M1 near Sheffield.
They had exited their vehicle but another vehicle collided with their car, causing it to plough into her.
At a pre-inquest review last month, Ms Mundy was told that 16 minutes and 21 seconds elapsed between the car breaking down and the collision, with a further six minutes and 15 seconds before warning signs were activated.
She said this made a total of 22 minutes and 36 seconds between the breakdown and warnings being displayed. She said: 'I want to know why, essentially. It's as simple as that.'
Ms Mundy invited Highways England time to prepare a response before a further hearing in February.
A Highways England spokesperson said: 'Our thoughts and sympathies are with the family of Mrs Begum,and all those affected by this tragic incident. We appreciate that this remains a terribly difficult time for them.
'We will assist the coroner in the forthcoming inquest and provide the information she has requested.Every road death is tragic, and we are working hard to make our roads as safe as possible.'
Highways England told Highways that 'in most ways, smart motorways are as safe as, or safer than, conventional motorways, but not in every way', reflecting an admission last year by transport secretary Grant Shapps that 'the risk of a collision between a moving vehicle and a stationary vehicle is higher on non hard-shoulder motorways'.
Despite the name, smart motorways do not have an effective means of detecting stationary vehicles and usually rely on operatives watching CCTV, with 'pan, tilt and zoom' cameras potentially pointing the wrong way.
The Motorway Incident Detection and Automatic Signalling (MIDAS) system that is used across the smart motorway network is likely to raise alerts once traffic has already slowed, including because a collision has occurred.
In addition, although Highways England has agreed to extend the use of a radar-based stopped vehicle detection system to the whole smart motorway network within 36 months of last spring, its chief engineer described that system in a letter to another coroner as 'a radar system which detects stopped vehicles in low flow conditions'.
It has pledged to carry out trials into an alternative system.
In 2019, the AA published data from Highways England showing that on average it took 17 minutes and one second for a stationary vehicle in a live lane to be spotted.
AA president Edmund King said: 'The coroner is absolutely right to question why it took 22 minutes and 36 seconds between the breakdown and warning signs going live. The AA has been raising similar questions for a number of years.
'This tragic case and too many others, are exactly why we have campaigned for doubling the number of emergency refuge areas to every three quarters of a mile and for stopped vehicle detection technology to be fitted across the network.'