Speaking to council directors' body ADEPT's annual traffic management conference, Kate Carpenter, senior associate director operational safety and traffic engineering at Jacobs, gave an important analysis of the role of modern road and vehicle design in public health.
Ms Carpenter (pictured below) called on local traffic managers to contribute to health by employing inclusive designs to help tackle the physical inactivity crisis as well as mitigate risks.
Beginning by emphasising that road deaths are one of largest non-natural causes of death in the world – there were around 1,870 UK road deaths in the year ending June 2019 – she outlined the following points as critical elements of modern road safety and management:
apply the safe system approach
understand that design standards do not guarantee safety
rebalance road user hierarchy
create high quality protected cycling infrastructure
create inclusive environments
Inclusive design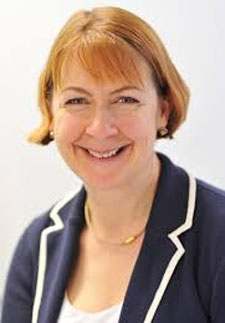 'What does good look like? Good looks like public health; physical activity and active travel not just preventing road casualties.
'Physical inactivity causes one in six deaths and costs the NHS £1bn indirect costs and a further £8.2bn in indirect costs. This is one of the biggest things we should be thinking; how do we keep cyclists and pedestrians safe?
'There is a massive mortality benefit from getting people physically active, so protecting people as pedestrians and cyclists from a traffic management perspective is particularly important in both temporary and permanent works.'
Ms Carpenter highlighted that the UK has been making little progress on reducing annual road deaths for the last 10 years, and highlighted that vulnerable users including cyclists and walkers account for around half of all road deaths.
'That is particularly significant when we look at active travel and when we think about protecting those road users.'
She went on to detail her recommended approach: 'As authorities we should be recognising that cyclists and pedestrians have a high priority. In many areas, they are sort of tolerated. We need to stand up for these modes and say they are exceptionally important and particularly that means inclusive infrastructure.
'There is a lot of what I would call hate crime around cycling on Twitter at the moment, and we need to push back and say this is the benefit.
'We often hear authorities say we are preventing cycling in the town centre because of disabled and elderly people. Well, they can be cyclists too - maybe not bicyclists but it might be side by side tandems or handcycles. It is a way of people staying physically active and accessing services later on in life.
'[We need] inclusive environments for walking, not forgetting pedestrians who are visually impaired, physically impaired or neurologically impaired.
'That means stop putting in guard rail. Remove it where you can. Transport for London has a very good process for this. Guard rail is almost a symbol of controlling pedestrians rather than giving them good pedestrian routes.'
She celebrated the Government's recent Gear Change document outlining a new strategy for cycling and walking infrastructure investment, design and delivery as a 'staggering, revolutionary change in thinking about travel'.
'We have talked for a long time about inverting the hierarchy of road users so pedestrians should be at the top of the food chain, but we haven't actually done it in practice [until now].
Safe systems
She also called on councils to adopt the safe systems approach to roads ensuring they 'do not have inherent hazards'.
This approach is now the cornerstone of Scotland's latest road safety plan, which was put out to consultation last month.
The document states: 'A Safe (road) System mitigates [human error] with its five pillars – effectively layers of protection – in the form of safe road use; safe roads and roadsides; safe vehicles; safe speeds; and better post-crash response; all working in harmony to prevent deaths and serious injuries.'
It adds that this will require a culture shift as 'many professionals continue to use traditional delivery methods which seek to correct human behaviour, rather than acknowledge that collisions are also related to the inherent risks of the existing infrastructure'.
Vehicle standards
Mr Carpenter ended her speech by discussing some of the dramatic changes coming into vehicle manufacturing by 2022 under the EU vehicle general safety directive.
The main technologies that will become mandatory include:
autonomous braking
automated lane keeping systems
intelligent speed assistance (ISA) – the lowest intervention alerts you when you have exceeded the speed limit, and the highest would have a complete override and prevents the vehicle from exceeding the speed limit.
Ms Carpenter said: 'This is a revolutionary change. The exact nature is still subject to some debate, particularly around intelligent speed assistance... it is not finalised.
'This is EU legislation, but it will affect us. I don't imagine we are going to abandon this technology. I don't think we will accept a lower standard car in the UK there would be a human rights outrage if we did.
She added: 'This could have some revolutionary impacts from a network management point of view. For instance, autonomous braking and ISA together could mean you don't need high friction surfacing. You could review the speed limit policy.
'Once a small proportion of vehicles has this technology, it actually regulates the fleet, except at the very quietest times. If the vehicle in front is held at the speed limit you will be too even if you are in an old car, so you actually get herd control except at the very quietest times.
'And lane assistance means you might need to refresh your road markings.'