JAG(UK) and Elgin have teamed up to support local authorities implement transport restart plans as the country emerges from lockdown, including mapping and publicising COVID testing facilities.
In partnership with JAG, which represents every highway and road authority in the UK, Elgin is making urgent changes to its one.network platform, which helps highway authorities plan and co-ordinate road works and communicate them to the public.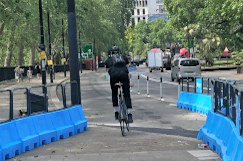 Authorities will soon be able to use the platform to manage the new street landscape called for by government, including publicising features such as reallocated road space, new active travel and pedestrian zones and even COVID testing facilities.
Elgin CEO James Harris said: 'Working with JAG(UK), we believe we can deliver the critical toolkit to enable highway authorities to co-ordinate and communicate effectively to avoid gridlock while they adapt their road networks to address an unprecedented set of new challenges.'
New datasets are also being added to ensure that works co-ordinators can prevent clashes occurring on emergency and NHS logistics routes, and from disrupting access to chemists or food retail outlets, as councils set about redesigning roads to manage a new traffic environment.
The Joint Authorities Group (JAG(UK)) will also extend its advice to incorporate best practice and Governance on how highway authorities can best implement changes to their road networks as well as adapting their planning and co-ordination process to ease pressures on councils.
The partnership follows a letter sent from Emma Ward, Department for Transport (DfT) director general of roads, places and environment, to highway authorities this month setting out a local transport restart agenda.
The letter was referenced by the UK Roads Board in its latest meeting as being a catalyst to the increasing local focus on active travel.
DfT ministers and officials have called for extensive changes to the road network to encourage modal shift, including temporary road closures and pop-up cycle lanes, and also recommended increased co-ordination for road works and effective real-time communications with transport users.
The DfT is understood to have set out a set of 'Golden Covid-19 Rules'. Working with the Highway Authorities and Utilities Committee HAUC (UK) and the Highways Sector Council, the rules provide a playbook for safe and effective streetworks and traffic management.
The Highways Sector Council guidance requires authorities to send real-time road closure updates to sat-navs which can be accomplished using the one.network Live Linkapp, Elgin said.
JAG(UK) CEO David Capon commented: 'The transport network is a critical element to helping the economy restart. The advice from the DfT will see a new set of pressures on highway authorities and JAG(UK) welcomes the opportunity to work in partnership with Elgin to help the sector rise to the challenge.'
JAG(UK) was formed to provide advice to government both directly and through the Highway Authorities and Utilities Committee, HAUC(UK).