Four Kier businesses, including Kier Highways, have been suspended from the Prompt Payment Code for failing to pay suppliers on time.
Eurovia Infrastructure Services has also been suspended while a number of other infrastructure businesses have been reinstated.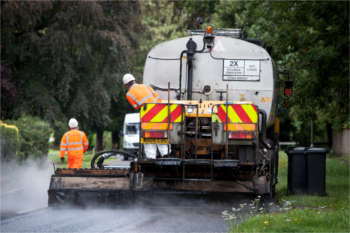 The Chartered Institute of Credit Management (CICM) said the Kier businesses are among those that have failed to honour their code commitment to pay 95% of all supplier invoices within 60 days.
Among 20 suspended companies are Eurovia Infrastructure Limited; Kier Integrated Services Limited; Kier Infrastucture and Overseas Limited; Kier Construction Limited; and Kier Highways Limited.
CICM chief executive Philip King said: 'We will continue to challenge signatories to the code if the obligatory payment practice reporting data suggests that their practices are not compliant. We are encouraged by those who have already submitted action plans to achieve future compliance, and we are working closely with those businesses to support a better payment culture.'
Small business minister Kelly Tolhurst said: 'The vast majority of businesses pay their bills on time and it's encouraging to see some companies engaging with improved payment practices, allowing them to be reinstated on the code. However, more needs to be done, and today's action shows we are not afraid to crack down on those who do not pay suppliers on time.'
A Kier spokesperson said: 'Kier has been working with the CICM over the last year to address this important issue and we have been implementing approved action plans for those Kier businesses that have been suspended.
'We remain committed to paying all our suppliers to agreed terms and have made significant improvements in our payment processes whilst continuing to offer our subcontractors, particularly SMEs, a range of accessible payment plans.'
A Eurovia spokesperson told Highways: 'Eurovia Infrastructure Limited is a subsidiary of Eurovia UK Limited and is one of our contracting legal entities in the UK. We fully recognise the importance of complying to the Prompt Payment Code, taking the responsibility for paying our Supply Chain very seriously.
'As a private sector partner, delivering local infrastructure services, we have a number of terms that are agreed on a case by case basis, especially with SME type local organisations with little financial resilience. We maintain that the payment record of Eurovia Infrastructure Limited, particularly to SMEs, is both strong and fair.'
Among nine reinstated companies are Alun Griffiths; Costain Limited; and Interserve Construction.