The Local Council Roads Innovation Group (LCRIG) has officially established itself as a Community Interest Company (CIC).
New chief executive Martin Duffy (pictured) helped mastermind the change, which means that the organisation can operate along the lines of any other limited company.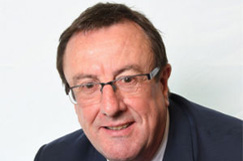 As a result, LCRIG is in a position to procure goods and services, lease offices and apply for government funding.
Mr Duffy said: 'Becoming a Community Interest Company will allow LCRIG to move on to the next level. The organisation has evolved rapidly over a short period and this news means that LCRIG is now better positioned to provide a real benefit to the industry.
'We're already at the centre of sharing good practice, skills, experience and knowledge across the sector. Now that we're a CIC it puts us in an even stronger position and will open up opportunities to secure funding that will enable further progression in these areas.
'Ultimately, we want to help all of our members and this means that we'll be able to give even more back to the sector.'
LCRIG president Will Britain added: 'This is a really exciting development for LCRIG. When I first founded the organisation in 2013 I never imagined that we would get to this point. The aim then was to encourage councils to work together and with the 'highways community' to support the Department for Transport to deliver innovation on a national level.
'This is something we will now be able to help with on an even bigger scale. The industry continues to face challenges and I'm delighted that LCRIG is now even better positioned to help the sector meet them.'
LCRIG acts a conduit for all aspects of the highways community and is a network of politicians, councils, council groups, the supply chain (including utilities), associations, academia, key organisations and the media.