National Highways is facing pressure over the climate impact of building the Lower Thames Crossing after it made a so-far unsubstantiated claim to have already cut construction carbon on the scheme by 'over a third'.
Campaigners have suggested that the government-owned company's statutory consultation on the scheme may need to be re-run because of a lack of data on carbon emissions.
National Highways withdrew its application for development consent in 2020 after the Planning Inspectorate warned that it was likely to be rejected.
As part of the original application, National Highways carried out a statutory consultation in 2018, including publishing a Preliminary Environmental Information Report. That document did not contain any estimate of the carbon dioxide emissions from building the project.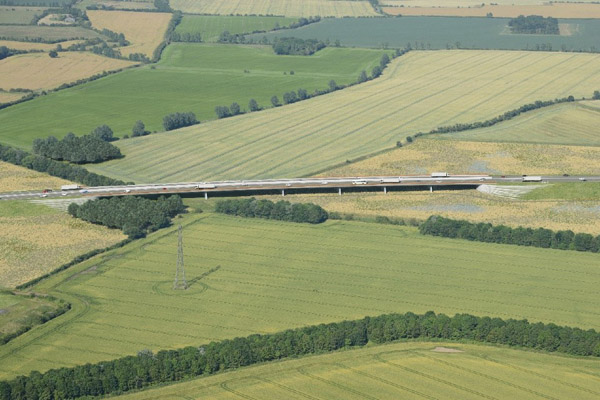 A viaduct will carry the new route over the Mardyke valley
Transport Action Network (TAN) campaigner Rebecca Lush said the absence of data in earlier consultations may mean that National Highways will need to run a new statutory consultation in advance of its new planning application, which it has said it intends to submit this year.
She told Highways: 'The statutory consultation happened over three years ago now. The environmental report at that time contained no data on the huge carbon impact of this scheme, from both the induced traffic and the construction process.
'Subsequent non-statutory consultations have also not included carbon data. Considering climate change is the biggest environmental issue we face, it is vital that LTC consultations include information on carbon, and the environmental impacts report be updated to reflect the urgency with which we treat climate change now.'
Last month, National Highways announced that the planned tunnel linking Kent and Essex had been designated a pathfinder project to explore carbon neutral construction and would be the first major UK infrastructure project to use procurement to lower construction carbon.
It stated that 'the project has already reduced its predicted emissions during construction by over a third'.
When Highways asked for the source of this calculation, National Highways stated that predicted carbon dioxide (CO2) emissions had fallen from 2.5 million tonnes to 1.8 million tonnes – a reduction of only 28%.
However, the government-owned company has not provided any document that contains either figure.

An October 2020 appendix to the scheme's Environmental Statement, released under Freedom of Information laws to TAN, disclosed that CO2 emissions from the construction stage of the project were predicted to be just over two million tonnes.
Following that disclosure, National Highways stated that it had cut the predicted carbon emissions of the scheme by roughly a third. A reduction from 2.5 million tonnes – supposedly the original figure – to two million tonnes would have been a cut of one fifth.
In May last year, the company's commercial director for the scheme, Nic Hillier, said it had 'already made big strides' towards an ambition of making the scheme carbon neutral 'by cutting the carbon by a third'.
He cited a figure of 1.8 million tonnes of CO2 in the construction process. For this to be the result of a one-third cut, the original figure would have to be 2.7 million tonnes.
Last month Matt Palmer, executive director for the project, told the company's 'Road to Net Zero Construction' event: 'We've already managed to take a third of the embedded carbon in the construction out, so we've managed to reduce it from two and half million tonnes of carbon to below two million.'
Correction: An early version of this article stated National Highways was unable to substantiate its claims over carbon reductions. Highways regrets the implication of this wording and awaits evidence from National Highways on its carbon calculations.