Ministers have released £33m of Local Growth Fund cash for a new road linking the M1 near Luton to the A6.
The project, which is led by Central Bedfordshire Council and South East Midlands Local Enterprise Partnership (SEMLEP), involves a new 2.75-mile road link between Junction 11a of the M1 and the A6, forming a north-western bypass for Luton'.
The Department for Transport (DfT) incorrectly said that the road will link the M11 to the A6, which was widely reported.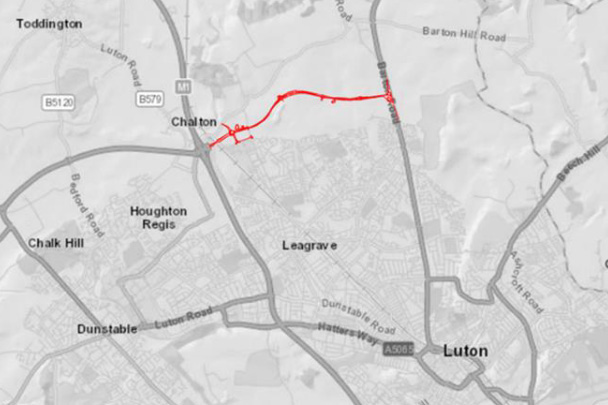 In July 2019 SEMLEP said it had set aside £32.75m of Local Growth Funding for the scheme, then estimated to cost £64.6m, and that final funding approval was expected from the DfT in February 2020, subject to their appraisal and approval of the full business case.
The council's webpage for the scheme indicates that a funding decision was needed in time for the scheme to commence from August 2021.
However, last year Luton Borough Council unsuccessfully sought a judicial review of Central Bedfordshire's approval of the scheme. The full business case was not submitted until June 2021.
The DfT said construction is due to begin in January 2022 and be completed by January 2024.
Roads minister Baroness Vere said: 'Residents in Bedfordshire deserve quicker and easier journeys and I know many have been frustrated by poor east-west connections north of Luton.
'That's why I'm pleased to be backing the new link road, which will support the construction of new homes and jobs, drastically improve accessibility and make the area more attractive to new business.'
Executive member for planning and regeneration at Central Bedfordshire Council, Kevin Collins, said: 'The funding provides us with a welcome opportunity to improve connectivity between towns in Central Bedfordshire, especially east-west linkages, whilst also easing congestion in the villages and areas north of Luton.
'It will also facilitate the delivery of growth envisaged in our adopted local plan and will provide homes, jobs and necessary supporting infrastructure for Central Bedfordshire and the wider area.'
The total cost of the scheme comes to £60.25m with a contribution of £32.75m local growth funding with the remainder coming from local private developer contributions secured by the council. As a DfT retained scheme, the funding was subject to ministerial sign off.