MVIS and Bartco UK have announced the latest version of their 'groundbreaking' HD Compact variable message sign (VMS), including the use of solar power.
According to MVIS, V.2 of the HD Compact unit 'builds on everything that makes the V.1 brilliant, offering added developments that usher in new and exciting uses'.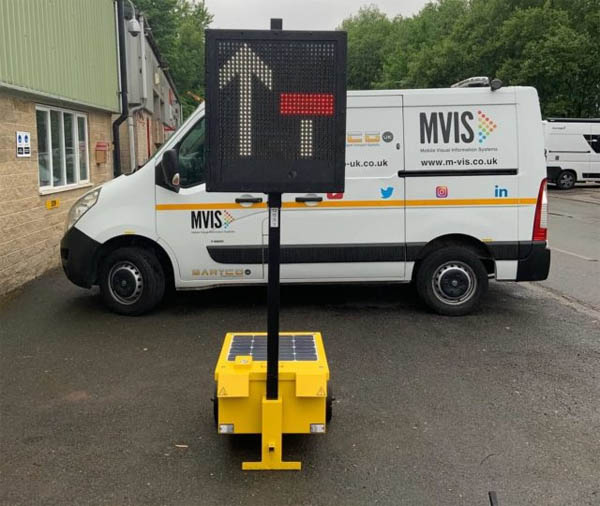 The firm described V.1 of the HD Compact as 'the first of its kind, offering a lightweight, portable VMS designed for use within work zones to improve safety and communicate information'.
Featuring a dual colour (red and white) display, the VMS can be updated remotely via MVIS web-based portal or mobile app and boasts up to a four-week run time.
MVIS said one of the most significant developments is the use of solar power, offering highly extended maintenance free run-time and representing a significant upgrade on the earlier version.
Another development in V.2 is the addition of adjustable height for its display, allowing for greater customisation.
It also features a new casing design that hides all cabling, making it more secure against vandalism or accidental damage.
The new version of this unit also still benefits from the data collection radar integrated in all the firm's signs. MVIS said this makes its VMS a low cost alternative to many data collection solutions on the market, offering a data source for the analysis of traffic trends and enabling greater intelligence for planning projects of all kinds.
It said these developments bring the HD Compact in line with its other solar powered signs, allowing it to offer a fully solar-powered VMS range in different sizes.
MVIS said it has also been working on a new trailer that allows it to be more efficient in deploying these units, transporting up to six in one journey.
It said the trailer, developed with Edwards Trailers, moves it closer to its corporate social responsibility goal for a cleaner, more environmentally friendly delivery model, as well as offering its drivers a more efficient and safer delivery tool, 'helping to cut down on journeys in a world affected by COVID-19
For more information contact MVIS via its contact form, call on 01629 580 570, or email sales@m-vis.co.uk.