The Government has confirmed a contribution of £27.4m towards the Little Hadham Bypass and Flood Alleviation Scheme, which has run up £8m in development costs before a planned start next month.
Last week, the then roads minister Jesse Norman, who subsequently moved to the Treasury, gave final approval for the Department for Transport (DfT) to provide a previously pledged contribution to the scheme.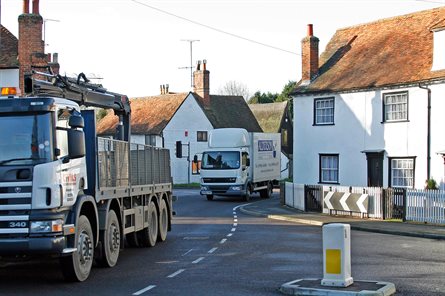 Hertfordshire County Council said it has worked in partnership with the Environment Agency to develop the scheme, which has a total cost of £39.58m.
It said the Government funding was secured through Hertfordshire Local Enterprise Partnership's strategic economic plan and forms part of a wider funding package with the county council and the Environment Agency.
The council told Highways: 'The total estimated cost to complete the project is £31m. The total investment in the scheme including development cost and delivery from the business case totals £39.6m. Of this, £7.94m are scheme development costs incurred up to 31 Mar 2019.'
Phil Bibby, cabinet member for highways and the environment, said: 'This funding from the Department of Transport is hugely significant. The A120 connects the A10 to Bishop's Stortford and Stansted Airport, so this is an important scheme for what is a vital transport link in the county.
'The bypass, and flood alleviation scheme, will help to support the growth we're expecting in Hertfordshire over the coming years, making a big difference to our road network, while also improving the quality of life for residents in the Little Hadham area.'
The council said the 3.9km bypass, to the north of Little Hadham, will alleviate congestion from The Ash traffic lights and provide more reliable journey times. As part of the scheme, new road embankments along the River Ash and Albury Tributary will act as flood defences to reduce risk to the village and other nearby communities.
In February it was announced that GRAHAM had been given the contract for the work.
The council said that some advanced works are currently underway, which includes advanced diversion of utility services and ecology works.
The main works are expected to commence on 24 June, which may be subject to change due to compliance with planning condition requirements. The scheme is expected to be finished and open in autumn 2020.