Northamptonshire's highways repair backlog could be spiralling out of control and increasing by more than half a million pounds a week, according to the famous 'Mr Pothole' and another informed roads campaigner.
Mr Pothole - whose real name is Mark Morrell and who has made numurous TV appearences to campaign on road maintenance - together with experienced network manager and highways consultant David Gaster, have carried out a series of investigations and say they have found causes for concern in terms of policy, practice and safety.
Your intervention criteria not fit for purpose, needs testing in court! It does not protect these on two wheels. Your Risk Assessments are failing were carriageway level being applied on drop crossings etc. #PotholeWar on NCC will not stop! Pics don't lie! pic.twitter.com/riFx95oNaU

— Mr Pothole (@mrpotholeuk) August 10, 2019
A key fear is that the troubled authority could be stuck in a trap of making short-term decisions at the expense of long-term value, further exacerbating its difficulties.
Cash strapped Northamptonshire only just announced it had managed to balance its budget this summer after effectively bankrupting itself.
The authority had to take the extraordinary measure of issuing a Section 114 notice in February last year, under which no new expenditure is permitted beyond statutory spending and the safeguarding of vulnerable people.
According to Freedom of Information requests put in by Mr Pothole, the backlog stood at £381m in 2013; this shot up to £465m excluding street lighting and possibly other assets by 2018 - meaning the maintenance backlog is increasing by several hundreds of thousands a week at least.
It is believed the backlog could be much higher, as according to Mr Pothole and David Gaster, an experienced network manager who has worked with London and Metropolitan boroughs plus counties, many defects on the road network simply don't show up on inspection reports.
The irregularities between filed reports and visual inspections carried out by the pair are sometimes up to 20 potholes.
The council only moved to the new code of practice for well-managed highway infrastructure in March this year, four months after the deadline.
Mr Gaster said: 'Many potholes over 50mm deep are left for up to six months prior to repair on carriageways, with 29mm defects in footways being also left for up to six months.'
An example of the apparently short-term strategies and procedures at the council came with the closure of Farthinghoe Bridge on the A422 last year.
A 2016 inspection report found cracks appearing, a lack of waterproofing and vegetation growing on the structure – a potential sign of damaging water ingress.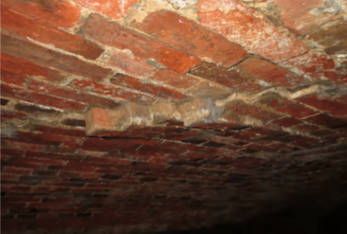 (Picture shows Farthinghoe Bridge damage in 2016, when it was 'not of great concern'.)
One note said 'previously the cracks to the abutments have been grouted, however these have also cracked and there is some minor displacement' - suggesting that minor, makeshift repairs were not holding.
Overall the report found: 'The structure is in a poor condition with some defects that should be addressed. The structure would benefit from having an assessment, as the structure carries the A422. Repairs are required to the arch barrel and abutments, an options study should be raised to establish the best course of action for repairs.'
The costs at the time to carry out a study and cut the vegetation would have been £1,750.
However a letter from the council to Mr Gaster revealed that 'although there was damage seen in 2016 it was not of great concern to us'. The council added that it had 'not carried out any repair works since the findings in 2016'.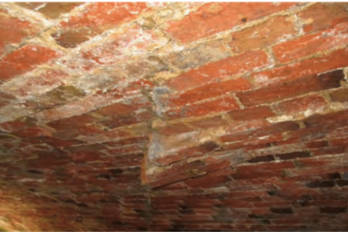 (Picture shows Farthinghoe Bridge damage in 2018, when it was of concern.)
Less than two years later in mid-August 2018, the structure had to be closed completely causing major disruption in the area. The repairs then cost around £440,000 and sent motorists on major detours for five months.
Mr Pothole described the situation at the council as 'scandalous and appalling'. He added that the council's inspection and repairs policy notably on the highways itself was indefensible.
In response to enquiries by Highways, a council spokesperson acknowledged that 'the highways repair backlog is increasing' but did not give an exact figure as to how much.
'We continue to maintain the safety of the highway network in accordance with our Highways Network Management Plan,' they added.
On the Farthinghoe Bridge debacle, the spokesperson said 'frequent inspections of the bridge were undertaken although no formal records of the inspections were retained'. Record keeping for inspections and decision making is an essential part of the risk-based approach and a lack of records could leave a council open to civil court claims.
The spokesperson added: 'At a later inspection the capacity of the bridge was assessed to have fallen below 3 tonne and at this point the decision was taken to close the bridge until a repair could be carried out. This has now been completed and the road re-opened.'
Finally on the issue of irregularities in inspection, the council said: 'The inspections that were made previously in Radstone Road were Safety Inspections. The purpose of these inspections is to identify defects likely to create danger or serious inconvenience to the users of the highway network or the wider community, so it is likely that other less serious defects will not be recorded during these inspections. Safety Inspections are undertaken in accordance with Northamptonshire Highways Safety Inspection Manual.'