Oxfordshire County Council is consulting on a new transport plan, which aims to cut car journeys by 25% by 2030 and reduce them by a third by 2040 as well as increase cycling trips from 600,000 to one million a week by 2031.
Oxfordshire's cabinet approved the draft Local Transport and Connectivity Plan (LTCP) last October. It is now out to public consultation until 16 March.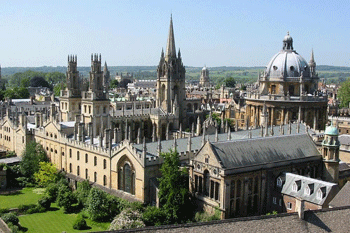 The plan outlines more than 90 policies to help Oxfordshire install a zero-carbon transport system by 2040. It is based around five key themes; environment, health, place shaping, productivity and connectivity.
As well as a new road user hierarchy, which would prioritise walking and cycling investment above private cars, the county is considering a series of demand management policies to reduce traffic.
These include low traffic neighbourhoods in the city centre and eastern arc and a workplace parking levy around part of the Eastern Arc of Oxford. The aim is to have the workplace parking levy and traffic filters in place from 2023.
The plan works alongside Connecting Oxford proposals, which were agreed by Oxfordshire County Council and Oxford City Council cabinets in January 2020.
Connecting Oxford has three key components:
a better, faster and more comprehensive public transport network.
a complete, high-quality, spacious walking and cycling network.
reclaiming road space from vehicles to provide more spaces for buses and people walking or cycling.
Cllr Duncan Enright, cabinet member for travel and development strategy, said: 'We recognise that in order to deliver our aspirations there will be considerable challenges. Delivering our vision will not be easy and there will be some tough decisions around how we use existing road space.
'However, the health of Oxfordshire residents and the protection of our environment is paramount. The benefits of this approach will be felt by all people today in terms of improved health, cleaner air and easier journeys. It will also help to protect our environment for future generations.'
Under the plan's new transport user hierarchy, which would 'set the direction for the rest of the LTCP, the county would develop, assess and prioritise transport schemes and policies according to the following transport user hierarchy:
walking (including running and mobility aids)
cycling and riding (bicycles, non-standard cycles, e-bikes, cargo bikes, e-scooters and horse riding)
public transport (bus, scheduled coaches and rail)
shared vehicles (taxis, car clubs and carpooling)
motorcycles
other motorised modes
The LTCP will be reviewed on an annual basis against key performance indicators (KPIs).
The document states: 'It is also clear that our previous approaches to reducing car use in the county have not been successful. Attempts to manage traffic flow and accommodate other modes have been unsuccessful as the car remains the dominant mode of choice. This has created environments that are not welcoming places for people and negatively impact on biodiversity and air quality. The LTCP represents an opportunity to implement a new way of thinking.'
The authority consulted on the LTCP vision document between 16 February 2021 and 29 March 2021. Overall, 68% of respondents agreed with the vision and 77% agreed with the key themes (33% strongly agree, 44% tend to agree).
Key policies:
Policy 5 – Oxfordshire County Council will develop Local Cycling and Walking Infrastructure Plans (LCWIPs) for all main urban settlements (over 10,000 inhabitants) across the county by 2025, according to national guidance and best practice with the aim of increasing walking and cycling activity.
Policy 7 – Oxfordshire County Council will develop a Strategic Active Travel Network in order to identify key routes for walking and cycling between destinations across the county and prioritise interventions to existing and new infrastructure.
Policy 11 – Oxfordshire County Council will embed the Healthy Streets Approach and Design Check Tool [developed for Department for Transport to support practitioners across England to apply new national LTN 1/20 guidance] into relevant guidance and decision making processes to improve the human experience of streets and encourage walking and cycling.
Policy 12 – Oxfordshire County Council will require transport plans and infrastructure schemes to deliver health benefits and to mitigate any negative impacts by: a. Requiring all major schemes or plans where potential health issues are likely to arise, to screen for possible health and wellbeing impacts. b. Requiring a Rapid or Full HIA to be submitted for larger-scale infrastructure proposals.
Policy 14 – Oxfordshire County Council will support the extension of low traffic neighbourhoods (LTNs), particularly where they support the creation of strategic safe walking and cycling routes.
Policy 17 – Oxfordshire County Council will work with District and City Councils to apply the 20-minute neighbourhood concept in our market towns and rural areas.
Policy 18 – Oxfordshire County Council will ensure that new school locations are designed to school streets standards.
Policy 21 – Oxfordshire County Council will promote 20mph as the default limit for roads through residential, villages and retail areas to ensure speeds are appropriate for the nature, environment and location.
Policy 44 – Oxfordshire County Council will assess, manage and minimise embodied and operational carbon in transport infrastructure projects.
Policy 45 – Oxfordshire County Council will continue to implement the Zero Emission Zone (ZEZ) in Oxford city centre and will investigate phased expansion of the ZEZ to cover the rest of Oxford.