Ministers have announced that the Severn Crossings will become toll-free two weeks early, prompting a wish list of new demands.
Tolls on the crossings, which had been due to be abolished at the end of the year, will now cease on 17 December.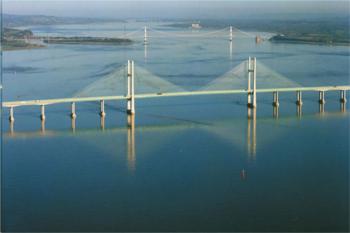 The Government said the move will have an economic boost to the Welsh economy of an estimated £100m a year.
Officials said businesses will also benefit from the strengthened links as they will be 'no longer burdened by the financial barrier between the communities'.
Welsh secretary Alun Cairns said: 'It has long been my ambition to see the tolls abolished, doing away with a barrier that has hindered Wales' economic prosperity for more than half a century.
'Today marks an important leap forward in Wales' economic potential, increasing our appeal to external investors but also ensuring businesses, commuters and tourists on both sides of the border are no longer hampered by a fee restricting them from carrying out their everyday lives.'
West of England mayor Tim Bowles welcomed the move but called for road improvements to mitigate the impact of increased traffic.
He said: 'Following discussions with the leaders and mayor within the West of England Combined Authority, we have asked the Department for Transport to prioritise improvements to J14 on the M5 and building J18a on the M4.
'We will continue to work with the Department for Transport, Highways England, Wales Office and Welsh Government on mitigating the impacts and maximise the benefits for both sides of the Severn.'
Jack Cousens, head of roads policy for the AA, said: 'The scrapping of the Severn Tolls this December is a Christmas present drivers heading to Wales are thrilled to receive. 'Drivers in the South East will now hope that the Government extends this festive cheer by removing the tolls at the Dartford Crossing.'
RAC head of roads policy Nicholas Lyes said: 'Perhaps now the Government may have an appetite to review other toll crossings where financially viable.'