A new blueprint for the future of high performing infrastructure has been unveiled by the Project 13 initiative, with the support of government and sponsored by the Infrastructure Client Group (ICG) and the Institution of Civil Engineers (ICE).
The industry-wide change programme is designed to radically reshape the nature of project delivery moving from traditional transactional arrangements to an 'enterprise model' in order to boost UK construction's flagging productivity levels and provide long-term value.
An enterprise model is one defined as an 'integrated organisation aligned and commercially incentivised to deliver better outcomes for customers from infrastructure investment'.
The blueprint comes more than a year after the Project 13 initiative released its call to arms to the industry in the form of the From Transactions to Enterprises report.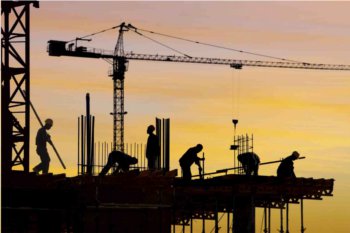 Speaking at the launch of this new implementation plan for the enterprise approach, which includes a self-assessment maturity matrix to let companies test how far advanced they are, treasury secretary Robert Jenrick said: 'Right now there is an annual £15bn productivity gap in the construction sector in the UK. That needs to be plugged.
'Project 13 is a superb example of what needs to be done because it sees a wide range of senior decision-makers come together from the public, private and regulated sectors, clients and suppliers alike, with a common interest in getting it right.
'Setting out a blueprint that aims to achieve better outcomes with infrastructure investment to focus on improving performance and a collaborative commercial approach. The new model that you are setting out today brings together parties so that interests and incentives are aligned at last and supports a move away from the unsustainable short-termist procurement that strangles investment in skills and innovation.'
Nick Baveystock, ICE Director General said: 'The launch of Project 13 is the chance for industry and government to change how we deliver our infrastructure. Developed between industry, clients and government over a number of years, Project 13 places customers at the heart of our national infrastructure programme, focussing on the social and economic value infrastructure can provide over the long-term.'
The system established new roles for those involved changing client and contractor direct relationships to an integrated team approach involving owners, integrators, advisers and suppliers.
The blueprint document states: 'The owner has a direct relationship with the suppliers and advisers. The relationship is facilitated by the integrator, who brings in appropriate suppliers and advisers at relevant points within the enterprise as and when they can best add value. They employ a systems thinking approach linking individual capabilities to attainment of programme or project outcomes. The suppliers and advisers are experts in their subject area they are accountable for the delivery of specific aspects.'
Most significant changes?
Owner is central and leads the enterprise defining long-term value
Suppliers and advisers have direct relationship with the owner
An integrator actively engages and integrates all tiers of the market
The key suppliers, owner, adviser and integrator work as one team to optimise value
The main differences in results?
Reward in the enterprise is based on value added to the overall outcomes not service provided
There is greater understanding of cost drivers and risk across all organisations in the enterprise with commercial incentives for collaboration to jointly mitigate risk, not transfer it.
Establishing a high performing enterprise requires fundamentally different leadership governance behaviours and skills to succeed this will be underpinned by organisations with increasingly diverse skills and backgrounds.
Four organisations have also been announced as early adopters of Project 13. These organisations will form a Project 13 implementation group to share experiences and learnings of the new principles.
Early Adopters
Anglian Water: Capital Delivery Alliances
Anglian Water is planning further development of its alliance approach in preparation for Asset Management Period 7 (AMP7) - 2020 to 2025. This will include further integration of partners through aligned and incentivised relationships and a digital transformation strategy at the centre of the alliance change programme. The alliances collectively deliver an annual programme of circa £500m on new and refurbished infrastructure.
Environment Agency: Next Generation Supplier Arrangements
The Next Generation Supplier Arrangements (NGSA) is a change in how the Environment Agency will select suppliers in future. The NGSA will help deliver flood outcomes, as well as other parts of the business including navigation, and other water and biodiversity work. It will allow for greater collaboration with other risk management authorities, such as local councils, and delivery partners.
Heathrow Airport: Expansion, Third Runway and Associated Infrastructure Programme
The Heathrow expansion includes enabling works such as moving and lowering the M25 and diverting local roads and rivers. The works will also build a new runway, and increase terminal capacity with associated baggage systems, airfield and landside facilities.
National Grid: London Power Tunnels
The London Power Tunnels (LPT2) is the second phase of National Grid's megaproject to rewire London for the 21st century and beyond. It will replace the existing direct buried cable circuits in South London, from Wimbledon to New Cross and then onto Hurst. The 32km of tunnels, crossing seven London boroughs, will be engineered to have a design life of at least 130 years, cost £750M and result in significantly less disruption during construction than direct burying cables.