The new Road Investment Strategy (RIS) does not include a target to improve roads with a low safety rating, after Highways England admitted that it is likely to miss the target in the current RIS.
Under RIS 2, from 2020 to 2025, the government-owned company will have a single Key Performance Indicator for safety; an ongoing reduction in the number of people killed or seriously injured (KSIs) on the strategic road network (SRN) 'to support a decrease of at least 50% by the end of 2025 against the 2005-09 average baseline'.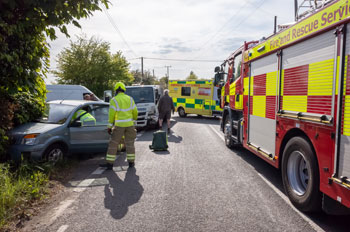 This follows a target of a 40% cut against the same baseline in the current RIS. The document describes the new target as 'broadly on the same trajectory as RIS1'.
However, Highways England's business plan for 2015-20 also had two targets in relation to the iRAP/EuroRAP star rating system, which measures the inherent safety of a road's layout.
These were to ensure that by the end of 2020 more than 90% of travel on the SRN is on roads achieving a benchmark safety rating of three stars or above and that the majority of roads with one and two star safety rating have improved to three stars.
Last year Highways England admitted that it was unlikely to meet the second target.
Under RIS 2, the idea of bringing a pre-determined number of roads up to three stars appears to have been dropped. Instead it will assess the network in 2021, determining a star rating baseline and 'forecast for 2025 based on its investment plan'.
This effectively replicates Highways England's approach under the current RIS, whereby rather than draw up a list of sub-standard roads to improve, it modelled the impact of the major schemes it intended to carry out with the intention of resurveying the network at the end of the period.
The document does include a (non-key) performance indicator for the (unstated) percentage of traffic using roads rated at three stars or above.
As with the first strategy, RIS 2 does not include a ring-fenced Designated Fund solely targeting safety. In RIS 1 it had a Cycling, Safety and Integration Fund worth £175m over five years, while RIS 2 has a £140m Safety and Congestion Fund.
In addition, RIS 2 includes £450m for renewing over 1,000 miles of safety barriers. This will mainly affect motorways and dual carriageways, rather than single carriageway A roads, which are more likely to have a low safety rating.
Despite Highways England's limited attempts to improve roads with a low safety rating, the document argues that while there has been a long-term downward trend in the number of KSIs on the SRN, a number of factors mean that 'opportunities to maintain this rate of progress get harder and as a result the rate of decline has slowed'.
Nevertheless, Highways England still has a 'Zero Harm goal of bringing the number of people killed or seriously injured to a level approaching zero by 2040'.