Paul Boss has been appointed chief executive of the Road Surface Treatments Association (RSTA) and will take up his new post on 1 July.
And Rory O'Connor, who is interim chief executive until then, has been appointed RSTA chief technical officer and will take up his new post on 1 May.
Mr Boss (pictured), who takes over from Mike Harper, has over 30 years' experience within local authority highways and since 2005 has been the highway asset manager looking after strategic, tactical and operational highway asset management in Staffordshire.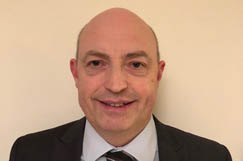 He said: 'These are challenging yet exciting times for the road surface maintenance industry and I am delighted to lead the RSTA's team in facing those challenges head-on. I believe that it is possible to turn challenges into opportunities via increased dialogue with government and industry stakeholders, further supply chain collaboration with highway authorities and a strong emphasis on developing association services that improve the business environment of our members.'
He joined Amey in 2014 as part of the Staffordshire County Council/Amey Infrastructure+ Strategic Highway Partnership and managed the teams responsible for the design of structural, preventative and structures schemes within the partnership.
The 'red carpet treatment' for developers and other programmes under this contract have seen major gains for the county, and are often held up as best practice.
Mr Boss is a chartered engineer and Fellow of the Institute of Highway Engineers (IHE), Fellow of the Chartered Institution of Highways and Transportation (CIHT), and member of the Institute of Asset Management.
He is also vice chair of the UK Asset Management Board and chair of the Midland Service Improvement Group Asset Management Task Group.
Mr O'Connor has worked closely with the RSTA for 10 years as a director of RSTA member company Tarstone Surfacing Ltd in various capacities as RSTA executive committee member, chairman – Surface Dressing Sector, and participant in numerous RSTA committees and technical groups including BBA/HAPAS, BSI and CEN committees.
He is a chartered engineer and Fellow of the CIHT, IHE and the Institute of Asphalt Technology.
Mr O'Connor said: 'The RSTA is the focal point for the road surface maintenance industry, and I am delighted to be part of promoting the association's championing of best practices and raising industry standards through the development of codes of practice, training and qualifying the workforce and ensuring safe working.'