Former director at the Department for Transport (DfT) and current director of the RAC Foundation, Steve Gooding, shares his experience at the site of the huge works bridging Cambridge and Huntingdon.
It's no good just pontificating about things from the rarefied atmosphere of a central London office; you have to get out and see what's going on at the sharp end.'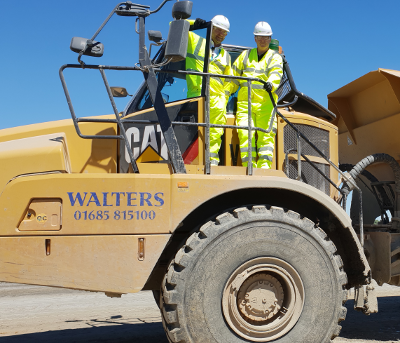 Good advice from a former boss of mine, and so it was that I found myself aglow with hi-vis at the A14 Cambridge to Huntingdon works site. I say the A14, but what I mean, of course, is the new section of A14 that, when completed, will bear little relation to its former incarnation in scale or precise line of route.
Chatting later in the day with Highways England's Chris Taylor, I have a go at summing up my impressions of the project in three words: scale; intensity; detail.
Scale. This project is, frankly, vast. The team happily share some of the eye-watering statistics: ten million cubic metres of earth being moved; dumper trucks carrying up to twenty cubic metres of spoil thunder past, one roughly every 100 seconds, all day long; two-thousand five-hundred people are working on site – and boy are they working!
Chris then cheerfully observes that his Lower Thames Crossing project could reasonably be compared to the A14. Plus Crossrail. And then a bit more. Good job he has other projects to keep him busy, like the Stonehenge Tunnel, or he might get bored*.
Intensity because the pace of work is quite, to a layman, mind-boggling. Anyone who associates road workings with slow to stationary traffic alongside rows of cones stretching away into the far distance but not a single road worker in sight might ask what magic potion has been applied to the A14 works, where in every direction for mile after mile earth is being moved, cuttings created, aggregates deposited, surfaces levelled, and bridges built. The weather has been favourable to intense working – if not kind to the works teams toiling away in high temperatures. Just providing reasonably cool water to the workforce is a substantial logistical exercise in itself.
But the thing I took away even more than scale and intensity was detail. The speed limit on site was 11mph. 11? Why not 10? All our other speed limits come in tens. 'Precisely so,' explains Vinny McCabe, our guide for the morning, 'which is why we've set our limit at 11, because we want people to think about it.' Now that's attention to detail. And it's also evidence of a positive safety culture that I find wherever I look on the project. Lessons are learned, ideas are hatched and tried out, feedback is swift.
Construction site safety has come a very long way over the course of my working life, rightly so. Back in the days when I was bag-carrying for government ministers I don't recall us being required to don much more than a hard hat when touring a project. These days it's the full works for everyone, top-to-toe – from protective glasses to armoured boots.
The last time I wore hi-vis on a worksite in summer it was, to be honest, an unpleasantly hot and sweaty experience. Today's gear proves to be notably lighter and cooler.
There's still a challenge in spreading 'live learning' and best practice between projects and across the sector. Manuals and good practice guides get you so far, but I'm firmly of the view that there's nothing more effective than face-to-face conversation. I'd encourage Peter Mumford, Highways England's executive director of major projects, to make it a requirement of all his senior project managers to visit each other's projects and report back on the lessons they've picked up.
The A14 project holds a special fascination for me because as a DfT official I was on hand, over several years, to explain to our many stakeholders that it had been in turn delayed, cancelled, re-instated and then accelerated. If I had to explain the rationale for the Road Investment Strategy (RIS) and its five-year financial settlement I could do worse than simply skip through the chequered history of the A14.
Of course big decisions need to be thought about very carefully. The cost of the A14 project at well over one billion pounds is hard for the average person to conceive, let alone for the average taxpayer to feel comfortable about. And a road isn't just for Christmas; once laid it is probably going to be with us for centuries. But stop-start is no way to get best value out of a major infrastructure programme.
Let us hope then, as summer shades to autumn and we hear the Government's proposals for the second RIS, that they respect the guiding principles of the first – that funding for Highways England's major maintenance and enhancement programmes needs to he high, stable and certain.
Even better if those principles could be stretched to cover more of our road network.
*The author would like to apologise for this inadvertent pun, ascribing it to the unusually hot weather he experienced on site.