Connected and Autonomous Vehicles (CAV) have the potential to bring huge change to people's lives, Scotland's transport secretary has said.
Giving the keynote address at the inaugural CAV Scotland event, organised by Transport Network on behalf of Transport Scotland, Michael Matheson MSP, said: 'The Scottish Government very much supports the CAV industry and I am keen to understand how the introduction of these vehicles and technology can contribute to the Government's purpose of sustainable economic growth, a fairer, more inclusive society, and our "Vision Zero" road safety goal.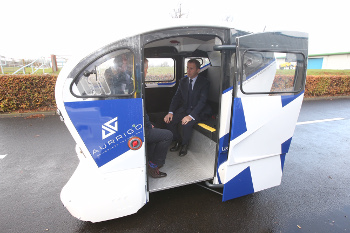 The deployment of Connected and Autonomous Vehicles has the potential to bring transformative change to peoples' lives, not just in how we travel, but in how we work; where we live; how we can achieve an environment with fewer emissions; and travel more safely.'
At the event, Mr Matheson took a ride an in AurriGo PodZero driverless vehicle.
He told an audience of industry experts that he saw CAV Scotland as a forum for informative and exciting discussions on 'how we can all support the future development and deployment of Connected and Autonomous Vehicles across Scotland'.
He said: 'The world of Intelligent Mobility is developing rapidly. Mobility-as-a-Service, Big Data, the Internet-of-Things and Connected and Autonomous Vehicles are just some of the disruptive technologies that will increasingly be pushing the boundaries of transport services.
'The Scottish Government intends to be at the forefront of progress to understand the benefits of new ways of travelling and consuming mobility as well as how and when to develop our existing services to enable and deliver the next generation of our Intelligent Transport Systems.'
Mr Matheson added that the development and uptake of CAV can be expected to contribute to a range of economic, environmental and societal benefits in Scotland, including:
'Fewer collisions on our roads by eliminating driver error, which in 2017, was responsible for over 65% of all reported road incidents in Scotland;
The freedom to travel for those who currently find that difficult. Including the elderly; young people; and people with disabilities;
More efficient road networks that are safer, with smoother and swifter journeys;
The reduction in stop-start congestion, reducing environmental impact and emissions; and
A refocusing of the public realm away from a built environment that prioritises and accommodates private vehicles and parking.'
He said the Scottish Government wants the country to offer high quality test and demonstrator opportunities to developers and industry.
He added that Scotland has 'a huge amount to offer' to those working in the CAV sector and has the potential to be an ideal 'Living Lab' for the real-world testing of these technologies.
'Our geographic and socio-economic diversity has the potential to offer opportunities across a wide range of environments. This includes some very remote rural areas where infrastructure and communications are very different from large city and metropolitan areas.'