The second phase of National Highways' £85m conversion of a stretch of the M56 to all lane running will get underway next month but the opening of the project will be delayed for the installation of stopped vehicle detection (SVD) technology.
The government-owned company, formerly Highways England, is converting the hard shoulders on both carriageways to running lanes on the four-mile section between Junction 6 at Hale and Junction 8 at Bow.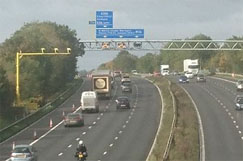 Although the project was due to be completed next spring, National Highways said that in line with promises it has made to the Government and the Transport Select Committee, SVD technology will now be added to the road before the new lanes open. In its announcement, the company did not use the term 'smart motorway'.
M56 upgrade project manager Clare Bond said: 'Good progress is being made on this upgrade and we are committed to implementing the recommendations of the Government stocktake before the scheme opens fully. This means it will include stopped vehicle detection technology.
'We're grateful for everyone's patience while we complete this work, and we expect the upgrade to be fully open next autumn.'
With the hard shoulder on the eastbound carriageway already converted, traffic management will be installed next month for the conversion of the westbound hard shoulder.
A contraflow arrangement used during phase one will be switched – carrying one lane of westbound traffic along one of the eastbound lanes, with the former hard shoulder on the eastbound carriageway in use as the eastbound lane one.
A third phase of the project will see construction of a concrete central reservation barrier.
In addition to traffic management technology, the scheme will see four emergency areas added.
National Highways described this section of the M56 as part of the important corridor between Manchester and Manchester Airport and the Midlands and said the extra running lanes will tackle congestion and provide more reliable journeys.