A trial has shown how exposing a variable message sign (VMS) radar log can act as a real-time portable traffic data system, in what has been called a 'landmark achievement'.
The trial, in April, was carried out jointly by Intelligent Transport Systems (ITS) technology supplier MVIS and data sharing firm Chordant, with the support of Coventry City Council.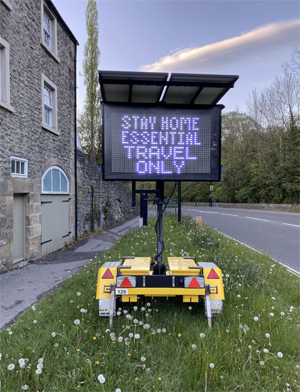 It involved the use of MVIS' VMS-A unit, specifically, the integrated data collection radar and Chordant's oneTRANSPORT Data Marketplace.
The radar-enabled portable VMS was deployed on a 30pmh single lane road in Coventry, approximately 50m from the signal junction, recording the date, time and speed of each vehicle passing.
It displayed a COVID-19 related safety message to drivers, bringing additional value to the project. The location of the unit was chosen to best provide a comparison of data collection from SCOOT data consolidated in oneTRANSPORT.
Over a two-week period, measurement data was retrieved on an hourly basis. Chordant was able to renew and bring up-to-date data adaptors and MVIS' VMS datasets to retrieve and expose radar logs.
These showed comparable traffic speeds and flow relative to Coventry SCOOT data, exposed through Transport for West Midlands on the oneTRANSPORT Data Marketplace.
Chordant accessed this radar log data from MVIS' server using an API developed to connect with its Webstudio and download the data automatically. It was able to consolidate and structure the radar log data and insights using its own software, transforming the real-time data into something MVIS said is significantly easier to share with customers and end users.
Ben Gray, Coventry City Council's highway network manager, said: 'Being able to open up and share the traffic data from our portable VMS enables us to monitor and manage the network in a more flexible way.' MVIS said this project and resulting partnership represent a significant success, as the innovative use of its VMS demonstrates the technology's true potential and offers even more value to its portable ITS equipment.
It added that while data has always been important for identifying trends and risks and the VMS-A offers this feature as standard, what made this project so significant was the development of its API to remotely retrieve the data hourly, providing Chordant with the ability to easily analyse it.
MVIS R&D manager Matt Felce said: 'We always knew of our unit's capability; however to have it proven next to SCOOT data is a landmark achievement for MVIS / Bartco UK.
'The beauty of this solution is its dual functionality, allowing a variable message sign to be deployed for safety and information applications whilst collecting data passively to be automatically retrieved and visualised by Chordant. This can then be used to improve safety even further.'
MVIS and Chordant are developing further insights with input from Coventry and Birmingham City Council network leads, which MVIS said will include vehicle count measurements through processing, and measurement frequency changes.
Mika Rasinkangas. president of Chordant. said: 'We look forward to collaborating with transport authorities and MVIS in the future to realise the value of data.'