Surrey County Council is advertising a new highway maintenance contract that could be worth £2.5bn over 21 years, with the stated value of the deal having trebled in three months.
As Highways reported at the time, in June the council said it would carry out further pre-market engagement for a contract that could be worth £800m, which it described as 'an indicative figure only based on its current core scope of requirements'.
It now says that it 'wishes to put in place a new, exciting and innovative arrangement to facilitate its highways maintenance requirements'.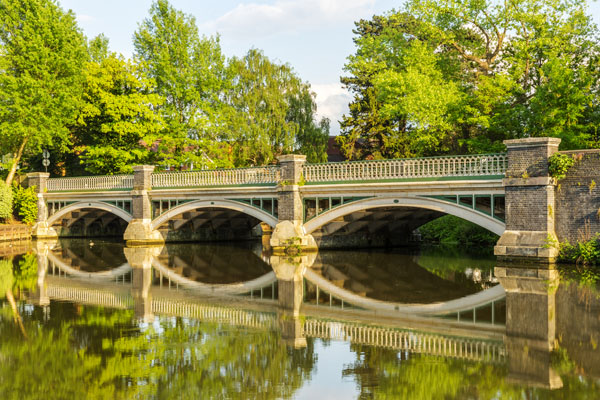 A road bridge over the River Wey at Weybridge, Surrey,
The contract notice states: 'The estimated value of this contract is approximately £2.5bn (made up of the costs in delivering the core element of the services approximately £80m p.a., together with additional monies which may be made available to the appointed supplier depending on the extent to which other innovative services are introduced as further described in the procurement documents).'
The new headline figure implies an annual spend of around £119m over the maximum 21-year term.
The contract notice states that while the existing term maintenance contract, which has been in place since 2011 and is due to expire in April 2022, has been successful, 'we recognise that there is an opportunity to build on this success and take steps to identify and maximise the opportunities available to both the Council and the appointed supplier'.
It adds: 'It is anticipated that the appointed supplier will not only deliver day to day maintenance services, but may also assist with the design/delivery of major schemes and/or design and implement new innovations connected to the operation of the highways network.'
The notice states that the council is seeking to achieve a number of objectives, including: 'Encourage and support innovation – we are keen to work with a supplier who is innovative in terms of how our core/continuing requirements are realised, in addition to discussing new ideas and ways of maximising the relationship. Our ambition is for this to create an exciting and new way of delivering highways services.'
It adds: 'We are keen to establish a genuine partnership approach which embodies trust in service delivery, pricing and the innovations referenced above, which would potentially take the relationship to a different level. We are open to exploring how we can do things better to facilitate this, including how we involve other parts of our supply chain (and/or other local authorities) to achieve success for all.'
The council is also seeking to explore 'the wider social benefits which can be realised from significant public contracts' and 'a sensible and fair procurement process…which is not overly burdensome and facilitates enough interaction with bidders to arrive at the right decision'.
The contract will be a 10-year initial term plus options to extend for subsequent periods, with the duration of any extensions explored during the negotiation process.