London's Vauxhall Bridge will be closed to general traffic from the weekend for what Transport for London (TfL) described as 'critical maintenance', but no date has been set for 'top priority' major renewals that were postponed due to a lack of cash.
TfL said the bridge will be closed until late November to allow for vital maintenance of the Edwardian structure. The work includes bridge deck waterproofing, resurfacing the footway and carriageway, drainage improvements, kerb works and replacing the bridge's expansion joints.
TfL said completing these works will address the corrosion and deterioration of the structural metalwork and bearings, allowing further repairs to take place on the underside of the bridge at a later date.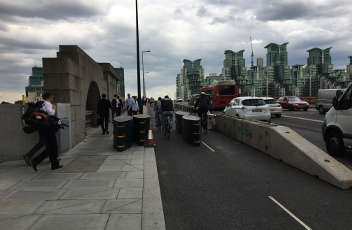 Nick Fairholme, director of project and programme delivery at TfL, said: 'The work to upgrade Vauxhall Bridge is critical to keep London moving. Vauxhall Bridge is a vital part of London's road network and by doing this work now, we're protecting it for decades to come.'
TfL said it will continue to monitor the bridge to determine the timing of future repairs to the underside, which are not currently expected to disrupt traffic.
This appears to related to major renewals to Vauxhall Bridge, estimated to cost £40m to £70m, which were at the top of a list of 'top priorities' for major renewals investment but were deferred in 2018 because of a lack of cash.
A paper presented to TfL's Programmes and Investment Committee stated: 'The current Business Plan allocations do not enable full renewal projects to be progressed for these assets at this time. Therefore, a review of the do minimum interventions is currently underway to ensure that the assets are safe.'
The paper warned: 'The deferral of these projects increases the risk of asset restrictions, and potentially closures, in the next five years in order to maintain a safe network. For example, further deterioration of bridge components may require load restrictions to be imposed, or increasing faults on ageing tunnel equipment may necessitate short-term closures for repairs or restrictions to reduce traffic volumes.'
The waterproofing works are estimated to cost around £2m.
The bridge will close to general traffic in both directions from 8pm on Sunday (9 August). At the start of works, access over the bridge will be maintained for people walking and cycling, as well as southbound buses, coaches and taxis but buses, coaches, and taxis heading northbound towards Victoria will be on diversion.
However, TfL warned that as works progress, this may change and those travelling through the area should check its website for the latest updates
It advised those driving to the area to try to avoid Chelsea Bridge, Lambeth Bridge and the surrounding roads.