In the first of a series of articles from Atkins on its role in the award winning Highways England A14 scheme, the team discuss how their pioneering approach to digital technologies is a further legacy of the project.
By Pete Burchill, Nick Coward, Louise Irvine and Andy Tye
As a major design partner in the joint venture to deliver Highways England's £1.5bn upgrade to the A14, our approach to using digital technologies has not only taught us valuable lessons, but it has also moved our industry further along the digital journey.
When work started on the A14 Cambridge to Huntingdon improvement scheme in 2015 it followed years of planning. This was at a time when the sector was only starting to embrace digital, and there were many unknowns.
Technologies were being widely used from geographic information system (GIS) to 3D modelling, but much of the data they produced was not joined-up or meaningful. What was missing at the point of handing any useful, meaningful site data over to contractors after the detailed design phase, was an asset database representing the real world as a 'single source of truth' – a form of digital twin.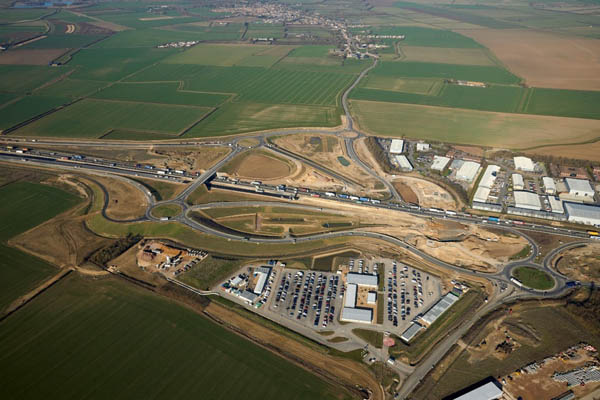 A shared appetite to harness digital technology
However, there was an appetite across the joint venture to work together to understand what we needed to do in order to truly harness digital technology to further our aims; and to bring technologies, processes, and people together.
Our aim was to build a rigorous asset database for not only the contractor to use, but for Highways England to then receive on project completion to plan essential maintenance work in the decades ahead.
Our first step was to scrutinise workflow, to create a useful app that would help site engineers perform an essential task, and at the same time capture valuable, consistent and reliable data.
The overall A14 upgrade programme involved the digging and inspection of some 200 trial holes – essential to search and document existing underground utilities pipework.
Beforehand, this would have been a highly manual process. Engineers would record findings on a simple spreadsheet, take photos, and gather and store information using different software and storage methods, leading to substantial inconsistencies.
Mapping and apping
With our new map-based app – which later evolved to become a British Construction Industry Award-winning utilities app – engineers could use their smartphones, which were pre-loaded with the location of the trial holes, and aerial photography, to pinpoint the holes' exact location.
Alongside receiving regular status updates, engineers needed to tick the box and confirm they'd found what was expected at the trial hole, create a new record, take a photo, complete a simple table, and upload it all there and then to the cloud – creating a single data source of truth, in real time.
This earlier project put in train a positive evolution in terms of the digital technology used on the rest of the programme.
Data sets and models evolved to the point the contractor could build from drawings, while they could also visualise how all components fitted together, supported by 3D modelling.
In essence, it brought us closer to what we would now define as a digital twin; where we now have a model that describes accurately all the assets, plus a civil 3D model of the infrastructure, with the necessary data integrity that underpins both.
As the A14 programme moved along – through phases one to five – by the sixth and final phase, which is now almost complete, and involves a road improvement scheme in Huntingdon town centre, we have learned lessons and made a true and proper connection between drawings and 3D models: closing the gap, removing inconsistency, and avoiding duplication to build a robust asset database.
A richer awareness for programme management
This sixth phase has involved the removal of an old viaduct; a big, complex challenge, because the old viaduct crossed the East Coast Main Line railway and a local highway. Here 3D modelling and gaining a richer awareness of geospatial factors around the location, has proven a vital tool in working out the best sequence to dismantle the old viaduct.
Not only has it helped us mitigate risk to health and safety – for example, high voltage cables were present, and a school with a zebra crossing was also nearby – but it has also helped us mitigate design risk. Planning and co-ordinating the work had to be very carefully managed, and any notifications and permissions sought, for example from Network Rail, all had commercial ramifications.
Technology and processes also need buy-in from people, and here was another win; each team committed to providing their information, and it was captured at the time it was authored – avoiding having to mop-up at the end of the job when many people are likely to have moved on.
There is a digital revolution now underway in the construction industry. It could dramatically increase productivity and save billions of pounds. Its endgame will aid decision-making at scale, and cost-saving, at the touch of a button.
Supporting net zero CO2 by 2050
We believe our work on the A14 upgrade stands us in good stead to work towards that ambition; we certainly saved significant cost through using 3D models for value engineering. But this was only possible because of the robust data structure underneath it. And so, when we look at greater precision in value engineering, there are also implications for the UK reaching its net zero CO2 target by 2050: more robust survey data will lead to better decisions being taken – resulting in fewer materials being wasted, and therefore lower environmental impact.
The A14 upgrade has been the birthplace of a lot of the technologies and processes that are now used on projects including the M25 junction 10 with the A3 at Wisley, and the A57 Trans Pennine upgrade.
It's important to remember that what people expect now is not where we were five years ago and the A14 has played a key role in moving the digital journey along for the rest of the industry.