Designed by Sir Joseph Bazalgette, Hammersmith Bridge is one of London's most beautiful landmarks. Built in 1887, this Grade II listed structure was the first suspension bridge built over the Thames. Idling along the river walkway beneath it, you used to be able to hear the cars rumble overhead, but not anymore.
Despite having survived two attacks, from the IRA and the Provisional IRA, it was built for horse and carts not the strain of 20,000 motor vehicles every day and in April the bridge had to be closed to motor vehicle traffic indefinitely while Transport for London (TfL) and Hammersmith and Fulham Council look for the cash for repairs, which will run to tens of millions.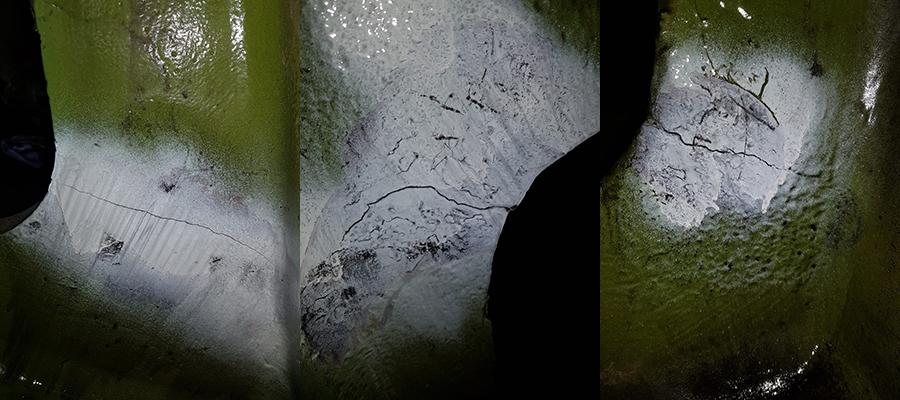 (Pictured above: Micro-factures in the north west and south west pedestals under Hammersmith Bridge - photo from Hammersmith and Fulham Council)
'Safety checks revealed that over decades the bridge's bearings had seized up due to corrosion. This has caused the bridge's natural and necessary flexibility to become compromised… hairline micro-fractures had started to appear in the iron casings around the pedestals of the bridge,' Hammersmith and Fulham Council stated.
A team of 18 specialist engineers from both TfL and the council are undertaking the most comprehensive engineering revie>w the bridge has ever seen. They are set to give a full diagnosis of the bridge's health by mid-August, at which point we will know more about price and timescales.
TfL has already committed £25m to the project and is 'actively working to fund the rest of the required funding to get the bridge back up and running'. It is working with Hammersmith and Fulham to submit a bid to the Government to fund the restoration.
Leader of Ealing Council and chair of London Councils' Transport and Environment Committee, Julian Bell, told Highways: 'I was quite shocked at the condition of Hammersmith Bridge. I felt very uncomfortable driving over it so I was not surprised at all when the message came through that for safety reasons it had to close. Clearly it was the right decision.
'Of course now the argument is who pays. For a strategic bridge of that nature, I think frankly the Government have to put their hands in their pockets. Councils don't have that kind of capital to spend on a bridge repair of that nature.'
Local Conservative MPs on the other hand seem more inclined to look to City Hall for an answer and have campaigned for the London mayor to take swift action. However there are some who argue we should consider keeping the bridge closed to vehicles. The suggestion is that if the route is closed it will lead to a certain percentage of traffic in the area disappearing.
A report dating back to 1997/1998, when the bridge was last closed to vehicle traffic, looked into the effects of offering more space to buses, cyclists and pedestrians. It argued that when roads are closed to cars a proportion of local traffic will disappear.
Researchers from the Transport Studies Unit at University College looked at 60 sites in the UK, including Hammersmith, and across the world where road space had been reduced.
Dr Sally Cairns, a research fellow at the unit, said at the time: 'There have been significant reductions in the immediate local area.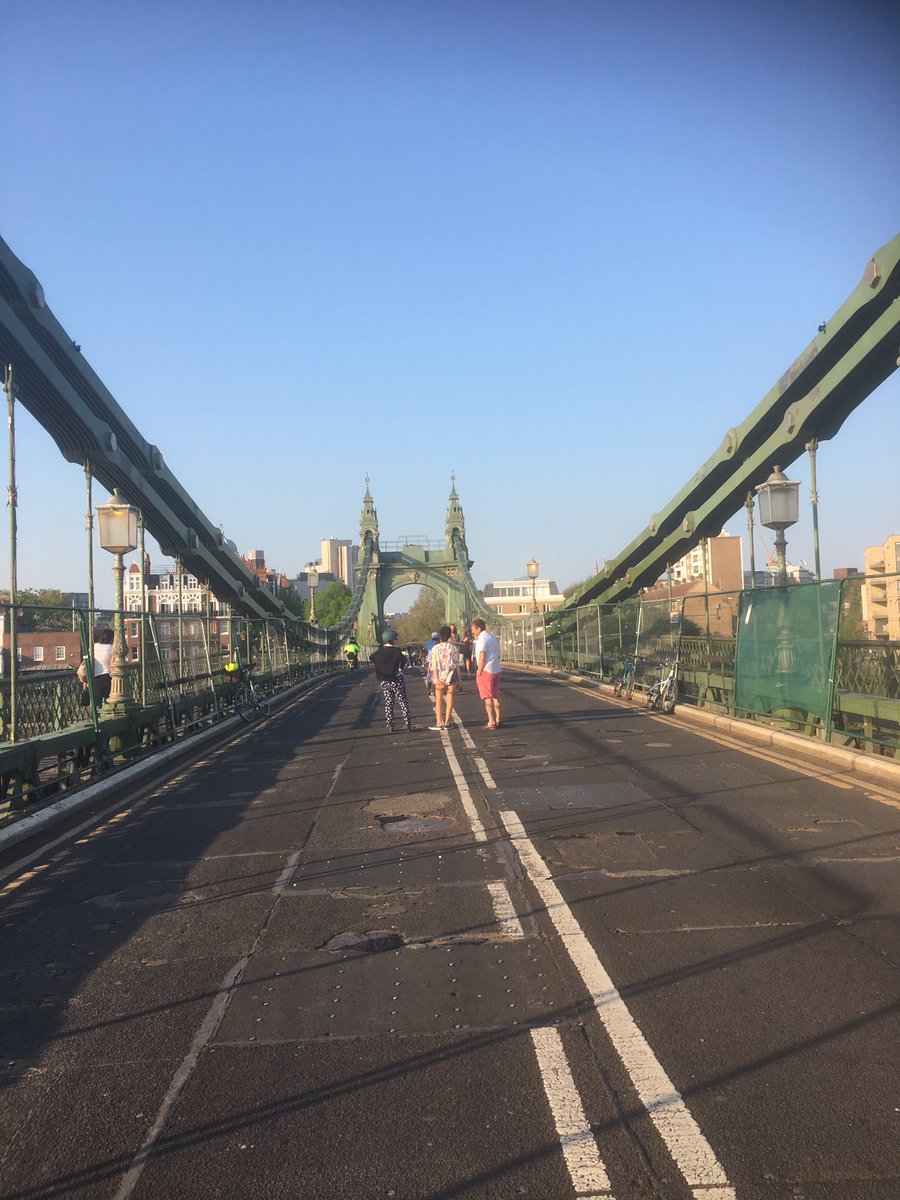 'Thirty thousand vehicles used to use Hammersmith Bridge but they have not been found on the two neighbouring bridges and there are surveys, which show that as much as a third of car trips which used to be made are now made by other methods.'
Emeritus professor of transport policy, Phil Goodwin, who is currently working on a national transport strategy for Labour following his earlier work with party under Tony Blair, made the case recently on Twitter for the bridge to remain closed.
He wrote: 'Braess or evaporation? Why Hammersmith Bridge can be closed to cars (as in 1997 and 2019) without making conditions worse on alternative routes. '"Braess's Paradox" showed that in congested road networks sometimes a new road link could make things worse, by tempting drivers to take a route which would make congestion disproportionately worse downstream. By removing the link traffic would speed up.
'It's an anomaly, real but difficult to find, like a Black Hole. (Mogridge showed a similar result via a different mechanism that building extra road capacity in an urban network with good public transport, could sometimes make conditions worse for everybody.)
'"Evaporation", sometimes called "disappearing traffic" is widely observed. Reducing road capacity triggers behavioural adjustments (trips, modes, timing, routes) which reduce the total volume of vehicle traffic sufficient to avoid the "traffic chaos" often wrongly predicted.
'Braess is (we think) rare and evaporation is common, like its equivalent opposite induced traffic resulting from expanding road capacity. In principle they can be distinguished by sufficiently elaborate, extensive, prolonged traffic counts.
'Hammersmith bridge was closed to cars for repairs in 1997 and there are 11 pages of very detailed but short-term results in Cairns et al 1998, suggesting a small but sufficient overall traffic reduction, around 10%, explain why surrounding congestion did not get worse.
'At the moment I'm inclined to go for "evaporation" as the main explanation. Interesting, there was no substantial discussion in 1997 to make the (part) closure permanent. Now it's a valid idea.'
Highways magazine's Ranty Highwayman – a chartered engineer who works in a local highways department – said: 'First, I want to commend the local heroes who actually manage the bridge in deciding to stop further damage and to return it to the people. I have no doubt that there would have been interesting conversations in the ivory towers of Hammersmith and Fulham, but there will have been professional engineers involved who have put their reputations in the firing line to ensure people and the bridge stays safe.
'Second, we have the change to the operation of the highway network itself. I've yet to visit the site myself, but watching the videos of the sheer joy people are having walking and cycling across is a wonderful thing to see. It now gives a golden opportunity to look at how motor traffic is evaporating in the area and how air quality is not being impacted on the diversion routes. We see this all over the world when we make radical network changes and I have no doubt that we will see the same here.
'There are lessons here about liveability and what we manage our assets for. A venerable listed structure like this, which has stood sentinel for over the Thames for over 130 years, is now being treated with the respect it deserves and we have a fascinating live experiment in how people move and adapt in full swing.'
Whether these theoretical arguments will work on the politicians though is doubtful. A quick survey of Twitter reaction suggests there is support for keeping the bridge closed to motor traffic, or only allowing buses to use the crossing. However there are also some frustrated drivers who point out that traffic is currently worse on nearby crossings such as Putney Bridge.
The Barnes Community Association has taken an initial survey of businesses on the Castelnau Parade just south of Hammersmith Bridge and found 43% reported no change to average income since the closure, 22% say business now doing better, and 35% say business is struggling, with these mostly relying on car deliveries to Hammersmith and Fulham.
Cllr Bell told Highways: 'I certainly know there are significant congestion problems as a result [of the closure]. As I have gone through Hammersmith there is newly created congestion as a result of the bridge
'It does make people take new routes of course. How much of that change of route will mean there is an evaporation of traffic if the bridge comes back on track? One would hope that would happen and people do find alternative routes and reduce some of the impacts [but] you can't not repair a bridge of that nature. A solution needs to be found.'
This begs the question, as others might say; are you sure the solution hasn't been found already?