Richard Hayes, chief executive of the Institute of Highway Engineers, discusses plans to develop a new training scheme for road inspections that could help square a circle with the issues arising from utility operations and reinstatements.
Is it time to ensure we get value for money from those who dig up our roads and footpaths for commercial advantage?
The legislation to control the presence, alteration and associated maintenance works was laid down in 1991 (New Roads and Street Works Act in England, Scotland, Wales and Northern Ireland) (NRSWA) and many roads managers have observed that this legislation appears to give a 'right to dig and disrupt', with repair a secondary consideration despite the extended maintenance period.
Highway authorities are however required to ensure that undertakers conducting street works in their area are complying with the legal obligations placed upon them. There is a national code of practice covering procedures for inspections, investigatory works and performance monitoring arrangements.
There are also situations in which the undertaker will be obliged to pay the highway authority a fee after they have conducted an inspection into street works, so it is critical that both parties understand what these situations are.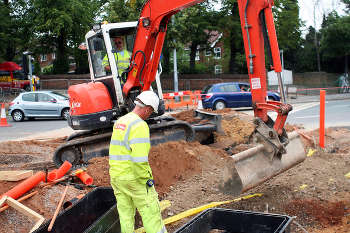 The IHE has identified that a significant number of safety defects relating to utility works have to be repaired by the highway authority within the two-year guarantee period or the extended guarantee period if a defect had already been repaired under guarantee.
There was also a general lack of willingness by some highway authorities and their NRSWA inspectors to challenge contractors' compliance in relation to both the reinstatement works and the signing, lighting and guarding associated with the works and/or permit compliance.
This was due to the contractors having more knowledge and/or interpreting the specification and code of practice differently together with the highway authority inspector not having any qualification to stand behind when challenged - some might have a NRSWA supervisor qualification, but inspection and permit compliance requires different skills and knowledge.
This suggests there is a lack of training and a lack of dedicated NRSWA inspectors - safety inspectors often double up or inherit the additional role. We also identified that there is a lack of clarity on both sides regarding how the code of practice is interpreted and how it should be enforced.
While useful, mentoring and coaching has proved to not be very effective to date in this industry, so something formal is required to help drive up the standard of utility compliance in terms of the safety of sites and reinstatements.
NRSWA inspectors require a different skills and knowledge set from the existing NRSWA qualification for operatives and supervisors and a need to ensure transparency, and competency when issuing fines for poor reinstatements, has prompted the IHE to develop a specialist training provision for inspecting utility works.
A City and Guilds 6033 scheme for NRSWA inspections and Permit Compliance has been developed by STC and the Highways Inspectors Board is seeking to develop this to instigate training and competence standards for NRSWA inspections
Background
The days of the term 'public utilities' have long passed and with the exception of highway drains and lighting cables the majority of pipes, cables and other apparatus buried under our streets are owned and maintained by private sector companies.
Since the introduction of the NRSWA, which included the role of coordination of works and the principle of noticing, we have had additional regulations put in place to address some of the issues and now lane rental charges and the ability to operate permit schemes, approved in late 2017. Of course, it will be some time before we can assess if any benefit results from this but trials in Kent and London proved promising - hence the wider roll-out.
Handing these additional powers to the highway authority will allow any surplus income to be used to improve the 'service corridor' and also to allow training and development of staff managing street works over and above their normal duties.
Enforcement, fines and trust
Enforcement fines in the roads sector have often, whether fairly or unfairly, been seen as a method of drawing in additional income. The fact that such revenue must be spent on transport does not always reassure the driving public, who in fairness already pay a lot to be on the roads, while those in the sector sometimes observe that not all of the cash addresses the main issues.
The parking and camera enforcement regimes have added to the poor reputation of roads authorities and dissatisfaction could increase if the new powers are used without benefitting the asset. Indeed the introduction of any new system should have the long-term stability of the road or footway as its main objective.
This will require a fair and standard system of inspection and enforcement by qualified individuals who have the trust and confidence of the utility companies.
Whereas highway inspections for general maintenance are included in the Well-managed Highway Infrastructure code of practice, utility works are specified in the 2002 Code of Practice for Inspections and the Specification for the Reinstatement of Openings in Highways and the 2012 Code of Practice for the Co-ordination of Street Works and Works for Road Purposes and Related Matters
However, many highway inspectors who undertake general safety inspections either carry out utility works inspections or come across them during their normal duties and have to assess the impact of any defect. Indeed, many utility companies use the highway inspection regime as a defence when challenged over their maintenance system.
The IHE administers the UK Highway Inspectors training and certification scheme approved by the UK Roads Board in 2010. It established the Highway Inspectors Board in 2011, which oversees the highway inspection regime and has determined to extend the syllabus of its training and accreditation programme to include those inspectors employed by highway authorities to ensure better compliance by the utilities. The current scheme consists of seven modules. This would be extended to eight and a national register of qualified inspectors created.
A number of questions arise from this decision: first and foremost, who benefits?
Advantages for utilities and private contractors?
Ensuring they are compliant with NRSWA and permitting requirements
Saving money by minimising fees and non-compliance charges
Reducing costs of remedial works covered by the guarantee period
Minimising the environmental impact of street works
Improving their company profile and image
Ensuring staff have detailed knowledge of the relevant Codes of Practice; TMA 2004; national and local HAUC guidance and local permit schemes
Increasing levels of staff confidence to deal with compliance related issues more effectively
Providing recognition with entry onto a national inspectors' register and a certificated programme specifically designed for staff responsible for compliance within a street works undertaker.
What are the benefits for highway authorities?
Ensuring fees and non-compliance charges are consistently applied and enforced
Reducing their spending on reactive and safety inspection related highway maintenance
Improving the quality of the network infrastructure
Ensuring that contractors are compliant with NRSWA and permit requirements
Minimising the environmental impact of street works on their network
Ensuring that appropriate inspections are carried out correctly and accurately recorded
Qualified staff have greater credibility when enforcing compliance
Ensuring that staff have detailed knowledge of the relevant codes of Practice; TMA 2004; Local HAUC guidance and local permit schemes
Ensuring a standardised and consistent approach to compliance
Increasing levels of staff confidence to carry out compliance work more effectively
Providing recognition with entry onto a national inspectors' register and a certificated programme specifically designed for staff responsible for inspections
Compliance within a highway authority.
What are the challenges in getting industry support?
Few utilities/contractors will take this up of their own accord unless the fines or charges made by qualified highway authority inspectors start to add up.
When a recognised scheme is available, inspectors will start to get challenged in court in terms of competence, which will help to drive the take up. If the scheme receives the support of the IHE with a National Register of Inspectors and the UK Roads Board, this would also significantly help to drive take up by all sides, particularly if it starts to become a contractual requirement.
The qualification
The increased profile, both in policy and financial terms, of highway maintenance, requires a corresponding increased emphasis on management and systems to support service delivery within the context and principles of best value.
The qualification ensures that candidates can identify the actions that may be taken to address issues of non-compliance relating to reinstatements, safety measures, unreasonably prolonged occupation of the highway and permit conditions.
It also ensures that candidates understand the procedures for measuring and managing the performance of undertakers and the financial arrangements for recovering the costs of inspections.
The qualification is also relevant to utilities and private contractors undertaking street works who should inspect their own street works regularly at all stages, including at the end of the reinstatement guarantee period.
The qualification provides an understanding of local HAUC and local permit conditions and consequences if standards are not being met and what the required actions are to minimise any potential charges from the highway authority.
The City & Guilds qualification can form part of your broader information management strategy.