The 'trading floor of transport' as Traffex is known has once again provided a massive economic boost for the sector, with delegates doing deals worth many millions over the three days this spring.
From 2-4 April just short of 11,000 visitors attended Traffex and Parkex at the Birmingham NEC, making it the largest traffic and transport event in Europe this year.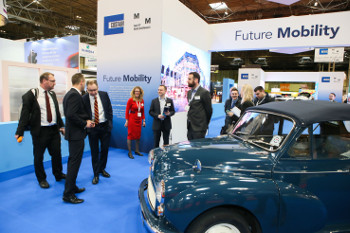 Dozens of exhibitors reported sales worth up to £500,000 and several reported sales well in excess of this, while 30 delegates – predominantly local authorities – said they had committed to between £500,000 to more than £1m expenditure. The full is amount of business done is likely to be many times this number.
The 'Traffex bounce' made a crucial difference this year.
At a time when growth was slowing in the UK, Traffex helped buck the trend and not only expanded but also gave its delegates and exhibitors a major edge. Those who reported back highlighted the event's international importance as a central trading floor as well as a hub for networking and scoping out new products and services.
Adrian Tatum, director of content for the Traffex series of events, said: 'This year's show reflected the phenomenal change in the highways and transport sector. The emphasis has switched to collaboration and harnessing technology to drive change on the road network.
'We know that exhibitors are there to promote their wares and make sales and that's what happened. Dozens reported sales worth up to £500,000 and several report sales well in excess of this. The numbers already booked to exhibit in 2021 speak for themselves.
'It's clear Traffex becomes the hub of everything highways and transport over those three days,' said Mr Tatum.
'It's a centre of excellence for all things new and a great networking opportunity – all taking place in the centre of the UK. But best of all, it's proving to be the trading floor for millions of pounds of global business deals.'
The next Traffex event is Traffex and Bridges Scotland (formally Road Expo) in Glasgow on 13 and 14 November. Click here to find out more and register for free.
Visitor feedback:
'Without doubt the best Traffex I have attended in 20 plus years in the highways sector. There was a real buzz about the place and the different sessions all seemed to complement each other really well.'
George Lee Chief Executive, Highways Term Maintenance Association
'We've long described it as the future of mobility: it's about transport, energy, communications, data; it's about networks, the vehicles, the customers – and all of those things working together as an ecosystem. It's going to be fascinating going forward over the next 5 to 10 years – and Traffex is going to evolve into something very different even from what it is now.'
Giles Perkins, Head of Future Mobility, WSP
"Traffex has once again this year been a huge success and has given the whole of our sector the opportunity to demonstrate how technology is changing their businesses, but more importantly just how their new techniques and products and positively impacting road worker/user safety, the customer experience and the effectiveness of delivery. Attending Traffex has enthused me and makes me really look forward to Traffex Seeing Is Believing in 2020."
Dave Wright, Executive Director, Kier Highways
'We've come here because this is the UK market for traffic. You meet a lot of customers – very good talks, not just between customers and our staff, but also between other companies, so it really enriches – it gives you food for thoughts, it drives innovations – so I would say come here, exhibit here and present your products.'
Wilke Reints – MD, Siemens ITS UK
'Traffex provides us two things: firstly it allows us to show our latest innovations, and on top of that, I can arrange a lot of meetings and I can condense them. We use it to showcase the company, and also to meet with our key clients and stakeholders so that we can condense what we have to do – this is the place, and we meet and greet here and generally discuss ideas with our clients.'
Wayne Johnston, WJ Group
'Thank you to everyone at Traffex, especially colleagues at Mott MacDonald and Costain Group PLC for making the Future Mobility feature such a success! The Future Mobility Zone worked really well. People have been really engaged with the story we are telling, we've had a narrative of how technology will change over the next few years… our vision for how different types of technologies will come together and benefit.'
Alistair Gollop, Mott Macdonald
'Traffex continues to be the prime event for promoting our traffic calming and site safety products.'
Roger Marsh, CEO, Rediweld
'As a first-time exhibitor, we are delighted with the quality of visitors and the interest in our products – GoodVision Video Insights. So pleased are we that we have already re-booked for Traffex 2021.'
Daniel Stofan, CEO, GoodVision Video Insights
'We had an important press announcement to make [on the day], which only became apparent at 9.30 when the Home Office gave type approval to a device we have. The flexibility of the organisers meant that I was able to actually give a press conference shortly after hearing the good news and sharing it with our market. That was a fantastic benefit.'
Geoff Collins, Jenoptik
'Traffex is always a very exciting week for us with lots of really good conversations. For the first time for Swarco at Traffex, we brought together all of our sectors in the UK: our parking capability, our vehicle charging capability, as well as our traditional traffic management solutions – signs, signals and controls and so forth. This generated so much interest among our customers.'
Jeremy Cowling Vice president of Swarco ITS
'Traffex was a huge success for us this year - it was busy even on the first morning and we got some really good leads. The organisers were so helpful and made it easy to manage and get right and there was a great atmosphere - we've already reserved a stand for next time!'
Claire Doherty, Rhino Asphalt Solutions
'It was my first experience, I thought it was excellent. I met lots of new faces, linked with current members, and was supported throughout by the Traffex.'
'Kealie Franklin, Association for Traffic Safety and Management
'I think more and more that the two industries with such massive synergies so for me to be able to offer our members to come and visit our show but to make sure they are making those connections with Traffex.'
Caron Fasetta, British Parking Association
'If you only make one exhibition this year make it this one.'
Ross Bullerwell, Managing Director, Rennicks UK
'It's great to hear from people about what their issues and concerns are and as I go around the exhibition, to see some of the new technologies and what they offer. This is an opportunity to think how is transport responding to that – and some of the safety implications of the new technologies. Hopefully it will give me some new ideas to take back to the Committee.'
Lilian Greenwood MP, Chair of the Commons Transport Select Committee
'To have exhibitors as we do now here and to have panels and discussions talking about access and inclusion and the need for an accessible environment is really important.'
John Welsman, Policy and Business Partner - Travel and Mobility, Guide Dogs
'Traffex is such an important event for all sorts of reasons and I've been coming to it for years, but to see it becoming involved in the road danger reduction and the road safety area has been really powerful. There have been some very impressive speakers from the UK and America as well.'
Nick Simmons – RoadPeace
'The attendance was really exceptional for this type of a meeting. There's a good cross section of exhibitors. I'm looking forward to the next time you do it seeing more technology exhibitors and more international exhibitors.'
Scott Belcher, President and CEO, SFB Consulting
'Very enjoyable day with a good range of exhibitions.'
John Curtis, Highway Engineer, Norfolk Council
'I came away with two thoughts. 1) as I progress my ideas, I now have a number of specific companies I can work with and who are willing to work on my projects, and 2) that Traffex is an absolute Must for me. I will come again in 2021 and may also have something to present or display in 2021.'
Peter Jones, Managing Director & Consultant: Intelligent Mobility Solutions Touching Blue Ltd and also Member of ITS-UK
'A great way to meet suppliers in one spot.'
Andy Wren, Transport Policy and Planning Manager, Hampshire County Council