Drones are set to play an increasing role in both construction and maintenance on the road network. Chris Ames scans the horizon.
When Highways England published its 15-year roadmap for the use of connected and autonomous plant (CAP) in the construction industry, drones were identified as having a big part to play.
In the highways context the technology primarily involves remotely controlling an aircraft for the purpose of collecting data. This does not really fit into either the connected or autonomous categories per se. Neither does the workstream in which they are expected to play a role – remote survey and operation. But that workstream does aim to support live digital twins and the remote operation of plant. Eventually the workstream will minimise human involvement in designing construction sites and their monitoring, an area where drones certainly have a part to play.
And as Ian Tansey, managing director at ProDroneWorx, explained in an article for Highways earlier this year, drones can carry out survey work using RGB cameras, thermal imaging or LiDAR to create digital data that can not only help monitor and facilitate progress on a construction job, but support the management of the completed asset.
So while the focus of the roadmap is on construction, digitising information about a project, particularly through building information modelling (BIM) and digital twins, provides a record of the new or improved asset that should be invaluable in its future management and maintenance.
In fact, one of the key functions of the remote survey and operation workstream is the creation of national asset registers.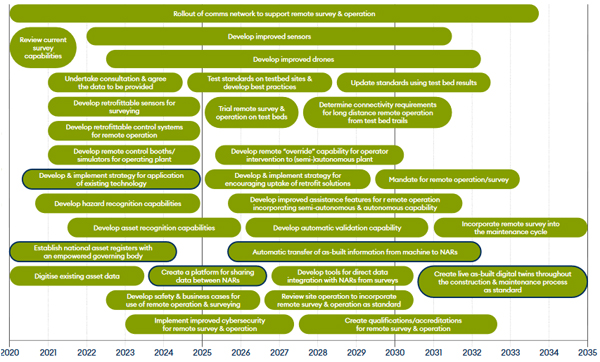 According to the roadmap, remote surveys will initially be carried out using dedicated survey systems – clearly a role for drones – 'and later by using the construction plant itself'.
The roadmap then foresees the development of improved drones and the sensors they carry into the next decade. Possible improvements could include better batteries and other technology that will allow drones to be flown further from an operator, or even autonomously. The end goals are pencilled in for the beginning of the next decade – to incorporate remote surveys into the maintenance cycle and create live as-built digital twins throughout the construction and maintenance process as standard.
The constraints
These days, drones are as likely to feature in the news for their nuisance potential and the dangers they pose as their positive uses. Regulation of their operation, including for infrastructure, remains tightly constrained by regulations set by the Civil Aviation Authority (CAA).
For example, while drone surveys have the potential to reduce traffic management, this depends on the safety of flying a drone over a live highway, which is generally outlawed.
In addition, the CAA currently places a lot of weight on the operator having sight of the drone. For the most part, regulations require an operator to be able to see a drone and for it to be no further than 500 metres away and visible to the operator. This is known as within visual line of sight.
Drones can be operated under extended visual line of sight (EVLOS), where spotters pass information about to the pilot, or beyond visual line of sight (BVLOS) which, as the name suggests, mean that it cannot be seen with the naked eye. Both require express permission from the CAA.
Appropriately, the CAA seems to be taking a constructive approach to the use of drones, recognising that it is not sustainable to operate on exemptions alone, and has published an indicative regulatory roadmap that it says could lead to normalised BVLOS operations in the future, based largely on what it calls a 'detect and avoid' ecosystem.
A CAA spokesperson tells Highways: 'We need really good sense-and-avoid systems and drones pushing out data on themselves that other airspace users and air traffic control can see. Then we need other airspace users to build up their capability to be able to electronically interact with each other and drones.'
Survey drones do not currently operate fully autonomously. In some ways, their evolution in this direction mirrors the development of autonomous road vehicles, which are currently allowed to be supervised remotely, with no safety driver in the vehicle itself. The CAA says that the ability for drones to operate autonomously would require similar technical abilities to those that facilitate BVLOS. However, the Government's recent call for evidence on the future of rural transport cited Solent Transport's Future Transport Zone, which saw drones deliver medical supplies to St Mary's Hospital on the Isle of Wight.
It states: 'For the first time in the UK, a BVLOS drone operated at an airport concurrent with manned aircraft. Solent Transport will now develop a smaller, fully automated drone with the vertical take-off and landing capability.'
The CAA also points out that unmanned aircraft fitted with video cameras often provide an opportunity to downlink 'live' video to the remote pilot either via to a screen or through video goggles, known as 'First Person View' (FPV).
However, the law currently requires that the remote pilot must maintain direct unaided visual contact with the aircraft. So the pilot is prohibited from monitoring the live feed, meaning that someone else may be needed to see what information the drone is relaying.
Constructing the asset
Among a number of potential applications for BVLOS cited by the CAA is 'long-distance aerial surveys of a highway construction project'.
Survey firm Sensat has supported Highways England and its contractor, Osborne, on a project to improve the A46 near Coventry, using a drone to scan the route along the highway. It says this avoided the need for traffic management systems and road closures and carried out in a single flight what might have otherwise taken around five days, during which time the information would be out of date.
Given the size of the area to be surveyed, it says this would not have been possible without permission to fly beyond the operator's line of sight.
A Highways England spokesperson tells Highways: 'Looking to keep drivers and local residents updated on the scheme's progress, Highways England looked to Sensat who had provided some innovative work on an M25 project that went beyond the traditional set of progress photos.
'Sensat provide rectified photography in high resolution that can be overlayed with the design and other information to help explain how the work fits into the scheme design.
'Sensat have an online platform called MAPP that not only can be used to view the imagery but has tools that be used to measure lengths and areas. At the same time a full LIDAR scan has been captured which is intended to be used for monitoring quantities during the earthworks. Again this can overlaid with the design or model to help with visualisation and planning.
'In short this is seen as a collaboration tool to help understanding of the projects progress as well as planning and measuring tool.'
Managing the asset
So far, the use of drones for managing highway assets has focused on condition surveys of assets in places where inspection by workers would be disruptive or dangerous.
Now, working with AmeyVTOL and as part of its ADEPT SMART Places Live Labs project, Kent County Council has trialled the use of a drone for carriageway condition monitoring and other uses.
The drones use high resolution cameras, with detection software in the background, which automatically detects defects on the road and assesses their rate of deterioration over time.
The project has so far been carried out off-highway as a proof of concept, with the intention of being to be ready when it is permitted to fly a drone over a live highway. A number of data acquisition flights have taken place over the Kent Showground, which was chosen as a 'representative but protected site'.
The project has so far been done within visual line of sight and, because the operator is required to have eyes on the drone at all times, a second person looks at the live feed.
Carol Valentine, the council's highways project manager for Live Labs, tells Highways: 'Within visual line of sight has lots of use cases [but] beyond visual line of sight is where we want to be eventually.' She adds: 'If we get this right, there are fewer boots on the ground. It is repeatable.'
The project also envisages the use of drones for a variety of other purposes, such as vegetation asset management, street furniture inspection, utility inspections, rapid incident response and perimeter and border inspection.
Vegetation asset management includes detecting changes in foliage to monitor occurrences of Ash dieback which, as Highways has reported, represents a growing problem for highway authorities.
Ms Valentine says: 'Anything we are doing is about making intelligent operational decisions based on machine learning.'