In support of mental health awareness week (9 – 15 May) the team behind the UK's leading transport media and conference brands – Traffex Parkex, Highways Magazine and Transport Network - will be holding a charity static cycle in their offices.
The money raised will go to Mind, who are the leading mental health charity in England and Wales, providing advice and support to empower anyone experiencing a mental health problem.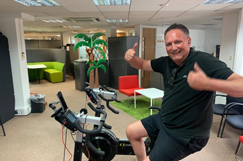 The static cycle event is to highlight the mental health benefits of exercise as well as promote a sustainable transport option.
Over two days this week, the team aims to cycle the equivalent of 130 miles in relay pairs on two static bikes. This is the distance from the Traffex offices to the NEC Birmingham, where the Traffex - Parkex exhibition is held in June.
Bill Butler (pictured), managing director at the Hemming Group, which runs Traffex Parkex said: 'Mental health and sustainable transport are two causes that are very important to us at Traffex Parkex. The construction industry is facing a significant challenge to ensure everyone in our sector family gets the mental health support they need. We are incredibly proud to be working with Mind to help ensure that no one faces these issues alone.
'In recent years, we have raised thousands of pounds for Mind, our chosen charity. Much of this was raised through our wonderful Highways Awards dinner, so I think it is only fair that we now break a sweat for this amazing cause.'
Approximately 1 in 4 people in the UK will experience a mental health problem each year. In England, 1 in 6 people report experiencing a common mental health problem (such as anxiety and depression) in any given week.
Mental health issues are particularly prominent within the construction industry. In the UK, men are roughly three times more likely to die by suicide, and in construction – a male-dominated sector – men are three times more likely to die by suicide than the national average for men.
According to a Chartered Institute of Building report, 26% of construction industry professionals thought about taking their own lives in 2019, 70% of respondents experienced depression and 87% experienced anxiety.
You can help tackle this urgent issue by supporting Mind and donating to the Traffex team's JustGiving page. All sizes of donation will be deeply appreciated, so please support this incredibly worthy cause. Together we can make sure no one has to face mental health issues alone.