Traffic levels in Great Britain remain stable, according to the latest statistics, with the continued growth of van and lorry traffic compensating for a slight fall in car use.
However, the ongoing increase in freight vehicles, the vast majority of which use diesel, threatens to undermine attempts to tackle toxic air pollution and in particular nitrogen dioxide, which mainly comes from diesel vehicles.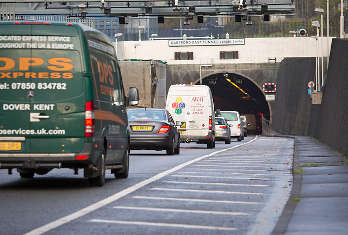 According to the Provisional Road Traffic Estimates Great Britain: October 2017 - September 2018, published by the Department for Transport, in the year ending September 2018 motor vehicle traffic increased overall by 0.4% compared to the year ending September 2017 to 327.1 billion vehicle miles (bvm).
While car traffic, which makes up the majority (77%) of vehicles on the road, remained 'broadly stable' at 252.5 bvm, van traffic increased by 4.3% to 52.2 bvm and lorry traffic by 1.5% to 17.2 bvm.
DfT officials pointed out that for the last five years, van traffic has been the fastest growing traffic type in percentage terms, having increased by 24.2% since the year ending September 2013.
While officials said the rise in lorry traffic continues the slow increase seen over the last five years, they added that the total figure remains lower than the peak value recorded just over 10 years ago, just before the recession started in 2008.
Over the last 20 years, traffic has risen overall by 15.3% but changed at varying rates across vehicle types, officials said. Van mileage has increased by two-thirds (66.7%) but lorry mileage by only 0.4%. Car use is up by a round 10.0% across the two decades.
In percentage terms, Britain's motorway network has seen the biggest impact of traffic growth in the past 20 years, rising by 30.2%. Beyond this, traffic on rural roads has increased significantly, rising by 24.2% on rural A roads and 21.6% on minor rural roads.
Traffic on urban A roads fell by 4.9% while traffic on minor urban roads rose by 4.3%.
In the year ending September 2018, motorway traffic and A road traffic both increased by 0.4% to 68.0 bvm and 147.2 bvm respectively while traffic on minor roads increased by 0.6%, to 111.9 bvm.
Average speeds on the strategic road network (SRN) remained stable at 59 mph, as did the average delay on the SRN at 9.4 seconds per vehicle per mile.