Re-flow has won a contract to provide its award-winning field management software for highways to road marking giant WJ.
The five-year deal is effective immediately and was made for an undisclosed fee.
Highways understands that a key element to the work is Re-Flow's scheduling system, with a bespoke design based around WJ's requirements for their future vision.
Lee Wade, technical director at Re-flow, said: 'WJ is looking to unlock the full potential of Re-flow's features, utilising automations, workflows as well as our open API, enabling the business to connect other software and integrate our system as part of a wider management framework.
'Utilising Re-flow to transform their operational processes, while working alongside other tools will give them something truly unique and powerful.'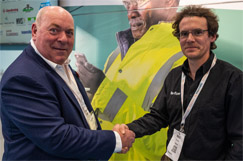 Wayne Johnston, CEO, WJ Group (left of picture), said: 'At WJ we pride ourselves on our delivery model, supporting our clients whenever and wherever they need it, in Re-flow we believe we have found the right long-term partner to support our growth ambitions whilst maintaining our service delivery levels.
'The Field Service element of our work is so integral to how WJ does business that we want to invest in the best systems for our team to continue to deliver the excellent service we provide all of our customers.'
In the past year, Re-flow has received another round of significant funding and continued growth across their teams.
The increased resources have enabled Re-flow to expand its system by implementing a series of innovative features these include elements such as a powerful form builder, live user tracking and fatigue tracking.
Re-flow managing director Michael Saunders (right of picture) said: 'We've reached a point where Re-flow is being seen as an integral part of operational processes for businesses within highways. Companies using our software are seeing huge improvements in terms of efficiency, sustainability, HSE management and reporting.
'The simple user interface, highly acclaimed support and constant innovation allow firms to seamlessly integrate the software and keep up with the constantly changing landscape of the industry. I believe that's what puts us ahead of alternatives and has made us the field management system of choice.'