Two possible routes for a new road linking the M4 with the A48 and Cardiff Airport have been unveiled, along with proposals for a new railway station and park and ride facility.
The routes would also connect junction 34 of the motorway with strategic employment sites in the Vale of Glamorgan. They are estimated to cost £81.025m and £58.666m respectively.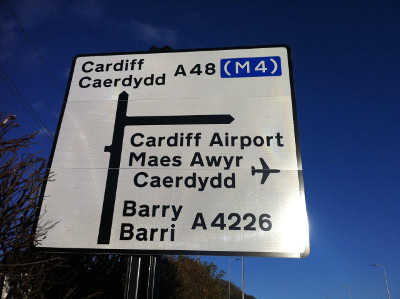 The public and other interested groups are now being asked which of the routes they feel should be presented to the Welsh Government with a request for funding.
The council said the scheme would improve access from the M4 and the valleys into the heart of the Vale and western Cardiff, along with Cardiff Airport and the surrounding enterprise zone and unlock further economic development in the area.
Council leader John Thomas said: 'Our goal is to make the Vale of Glamorgan a more attractive place to live, work, and do business. This scheme will achieve not only this but also bring huge benefits to the wider economy.
'Cardiff Airport is of great national significance and its growth and future success, together with the Enterprise Zone, will be vital in fuelling economic development in South Wales.
'Both of the proposed routes would also make a real difference to the lives of those living in this part of the Vale. The lack of an appropriate transport link between the M4 and A48 has turned the roads connecting Pendoylan and the surrounding villages into rat runs for commuters. This is not good for anybody. The current road is also unfit for cyclists and pedestrians.'
Both routes would connect just south of junction 34 of the M4 to the A48 at Sycamore Cross and would utilise a section of existing road to minimise impacts on nearby woodland.
One would bypass the village of Pendoylan to the east, while the other route would bypass Pendoylan to the west.
The eastern route is potentially the more expensive one, given the need to take account of the floodplain.
Both would be single carriageway roads and would include segregated walking and cycling lanes and would allow for a new railway station and park and ride facility to be built close to junction 34, at an additional cost of around £25m.
Residents and other interested groups are being encouraged to find out more about the proposals and have their say via the Council's website, where the plans, full consultants' report, and consultation response form can be found.