The AA has told Highways England to 'go back to the drawing board' on a new all lane running smart motorway in which one carriageway has just four emergency areas over a 10-mile stretch.
The controversial design comes after Grant Shapps told MPs that he had ordered such areas to be 'no more than a mile' apart.
The government-owned company has announced the start of work on a 'major upgrade' of the 10-mile stretch of the M6 between Junction 21a and Junction 26, with the hard shoulder permanently converted to an extra lane to provide four traffic lanes in each direction.
A Highways England spokesperson told Highways: 'There are 10 new emergency areas being installed (four along the northbound carriageway and six along the southbound carriageway). Places to stop in an emergency along this scheme include emergency areas and the hard shoulder of exit slip roads. On this section of motorway there will be a place to stop in an emergency an average of every 1.09 miles.'
Last year's Department for Transport Stocktake and Action Plan on smart motorways, which said that one of the reforms being introduced 'is to reduce the distance between emergency areas on new smart motorways', did not refer to 'places to stop' but 'safe places to stop'.
It said: 'Emergency areas are safer places to stop in an emergency than a hard shoulder because they are set back from the edge of the road and are wider than a hard shoulder. Design standards have been amended to reduce the distance between safe places to stop in an emergency to a maximum of 1 mile.'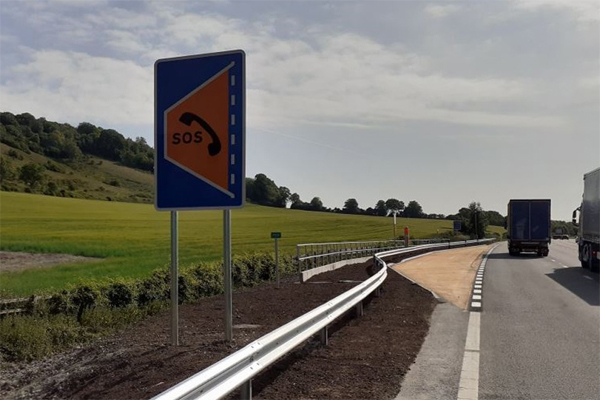 In January, Mr Shapps told the Transport Select Committee that this commitment specifically meant emergency areas.
He said: 'I do not approve of the fact that the emergency areas were spaced way too far apart. I inherited all of that. I have said that, ideally, they have to be three-quarters of a mile and no more than a mile. I have ordered Highways England to get on with it and put in more emergency areas.'
Mr Shapps has since received a progress report against the action plan from Highways England but has delayed publishing it.
AA president Edmund King told Highways that one problem is that while schemes built under the second Road Investment Strategy (RIS 2) are to be designed to the standard outlined in the Stocktake, schemes yet to start construction from the first RIS could still be built to the older spacing of 1.5 miles.
He said: 'Having more emergency refuge areas is of paramount importance when engineering "smart" motorways. However, we are fast drifting into a two-tier system where schemes have different spacings between laybys.
'As spades are not yet in the ground, we want schemes such as the M6 project to be paused while the Department concludes the one-year on report. Highways England should also go back to the drawing board and begin redesigning this scheme and those already in existence to meet the new standard ERA spacing of 0.75 miles.'
In a press release announcing the works, which did not use the term 'smart motorway', Highways England said that as part of the upgrade, 'new radar detectors positioned along the motorway will monitor the flow of traffic and automatically detect any stationary vehicles'.
However, as Highways has reported, a trial of SVD on the M25 found that the system only detected 85% of stopped vehicles, even after vehicles that were within the trial area but 'out of range' of the radar were excluded from the calculation.
Highways England specified a success rate of only 80% but only requires the system to cover 90% of the area that it covers, meaning that actual detections could be as low as one in four.
Project manager Agnes Usciak said: 'The improvements we're making on the M6 between Warrington and Wigan will provide quicker, safer and more reliable journeys for the tens of thousands of drivers who travel along the route every day.'
The upgrade will also see 92 electronic signs that will set variable speed limits and close lanes by displaying red Xs during incidents, along with 39 new CCTV cameras.
The metal barrier in the central reservation will be replaced with a new concrete barrier and lanes one and four on both carriageways are being resurfaced to create low noise surfacing.
Highways England said that after listening to feedback from customers, the work will be done in phases, starting from junction 24 to junction 26, reducing the length of narrow lanes to five miles.