Steve Cox (pictured), principal consultant at Ramboll, gives Highways his expert insights into the drainage aspects to Highways England's update to the Design Manual for Roads and Bridges (DMRB).
As part of its licence agreement, Highways England (HE) is obliged to refresh the existing DMRB by March 2020, and therefore 360+ DMRB documents and Interim Advice Notes (IANs) are currently being rewritten and published.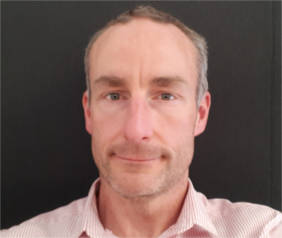 The document suite has many language and style variations, having undergone many revisions over the years, leading to ambiguities, misdirected emphasis and even some contradictions.
The distinction between essential requirements and simple advice has also become blurred. As a result, the responsible authorities for the UK's strategic road network (Highways England, Transport Scotland, Welsh Government and Northern Ireland's Department for Infrastructure) face numerous additional 'Departures from Standard' where the road designer requests that an alternative solution is used.
Dealing with such 'Departures' is costly and time consuming, with each one estimated to cost the sector £25,000 – hence an overhaul of the documents was overdue.
Expected benefits from the refreshed DMRB drainage documents include:
Enhanced efficiency and innovation in design
Greater efficiency in the future production and maintenance of the DMRB
Fewer costly and time-consuming 'Departures'
Fewer Compensation Events under Clause 17.1 of the NEC for inconsistencies in the works information
Generally, the DMRB update also shifts the emphasis to a performance-based design standard, rather than a prescriptive design standard. While this could be regarded as shifting risk onto the designer, the intention is to facilitate greater innovation and reduce the costs of construction and maintenance.
Under commission by Highways England's Santi Santhalingam (owner of the DMRB drainage documents) Ramboll has been leading a consortium of drainage experts from WSP, Mott MacDonald, AECOM and Jacobs to fully revise the 30 drainage documents in DMRB.
Some of the revised documents have already been published on Highways England's Standards for Highways website, with the remainder due for publication before the end of 2019.
The suite of drainage documents has reduced from 30 to 18, following the merging of documents which had related content, greater use of cross referencing to other industry standards and the removal of obsolete text. The remaining 18 documents clarify which clauses are requirements and which are advice, this in turn removes ambiguities the designer faced in distinguishing requirements from recommendations.
The new clarity is aided by consistent language based around the definitions of 'Must, Shall, Should and May':
'Must' is only used to indicate a legal requirement, where it was previously used by some authors simply for emphasis.
'Shall' indicates a requirement of the Overseeing Organisation, and non-compliance with clauses containing 'shall' requires a 'Departure'.
'Should' indicates advice expressed as a recommendation.
'May' indicates advice expressed as a permissible approach.
The main documents contain core principles applicable across the UK, but where requirements differ in England, Scotland, Wales and Northern Ireland, these are contained in National Application Annexes (NAAs).
Flood risk guideline changes
The DMRB requirements to minimise flooding of the carriageway have not changed.
Now stated in CG501 (Design of Highway Drainage Systems) – replacing HD33/16 – the guidelines stipulate, that: 'For road runoff within drainage systems the following overall design criteria shall apply:
1 in 1 year – no surcharge of the drainage system; and
1 in 5 years – no flooding from the drainage system.
Note the use of the word 'shall' in the clause, signifying that if the drainage system is not designed to this standard, then a 'Departure' will need to be obtained.
The requirement that road projects are to 'not increase flood risk elsewhere' is within the environmental section of DMRB (Volume 11.3), specifically the new LA113 (Road Drainage and the Water Environment).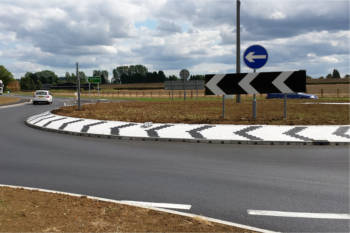 LA113 has also been drafted by Ramboll and is set to replace HD45/09 as part of the DMRB update. Previously, in HD45, the requirement to not increase flood risk elsewhere referred only to 'transport infrastructure in the functional floodplain', but in LA113 this has been clarified and expanded to include 'All projects on motorways and all-purpose trunk roads.'
More generally, the requirements and advice in HD45 have been condensed in LA113 by cross-referencing national documents instead of repeating the requirements at the risk of creating ambiguity or becoming out-dated by national policy.
Specifically, designers (in England) are required to carry out flood risk assessments (FRAs) in accordance with the National Planning Policy Framework (NPPF). In so doing, the climate change allowances for peak rainfall intensity and peak river flow for highway projects are fully aligned with national policy.
Specifically, the central climate change allowance for the design life of the scheme should be used, with a sensitivity check made using the upper end allowance.
Guidelines to protect water quality
While Highways England and the Welsh Government continue to be exempt from the need for a permit to discharge (by virtue of the Highways Act 1980), they also have a duty not to pollute, and if considered to be doing so could face an enforcement notice by the Environment Agency/Natural Resources Wales.
To demonstrate that highway runoff is not polluting, discharges are now required to pass an assessment using the Highways England Water Risk Assessment Tool (HEWRAT). The tool has been available since the publication of HD45 in 2009, but has been refreshed in 2019 to make it more user friendly. HEWRAT v2 will soon be available to download from Highways England's online drainage asset data management system (HADDMS). Key improvements to the tool are the inclusion of a pass/fail indicator for Environmental Quality Standards, and the inclusion of a matrix for assessing risks to groundwater.
To better reflect the ambitions of the Water Framework Directive, LA113 also incorporates new sections, prepared by Jacobs, on the requirement for additional assessments related to groundwater level and flow and Groundwater Dependent Terrestrial Ecosystems (GWDTEs). These have already been successfully trialled by AECOM on behalf of Highways England as part of the A303 Stonehenge scheme.
The matrix for assessing risks to groundwater has also been improved, incorporating the percentage of soil organic matter. The latter reflects the findings of Highways England research, showing that organic matter present within soils can provide suitable environments for microbes to degrade hydrocarbons.
Indeed, the research demonstrated that shallow soakaway/infiltration systems offer significant potential for pollutant attenuation, and should be the preferred method of discharge for road drainage. Further detail is contained within CD530 (Design of Soakaways) which replaces HA118/06.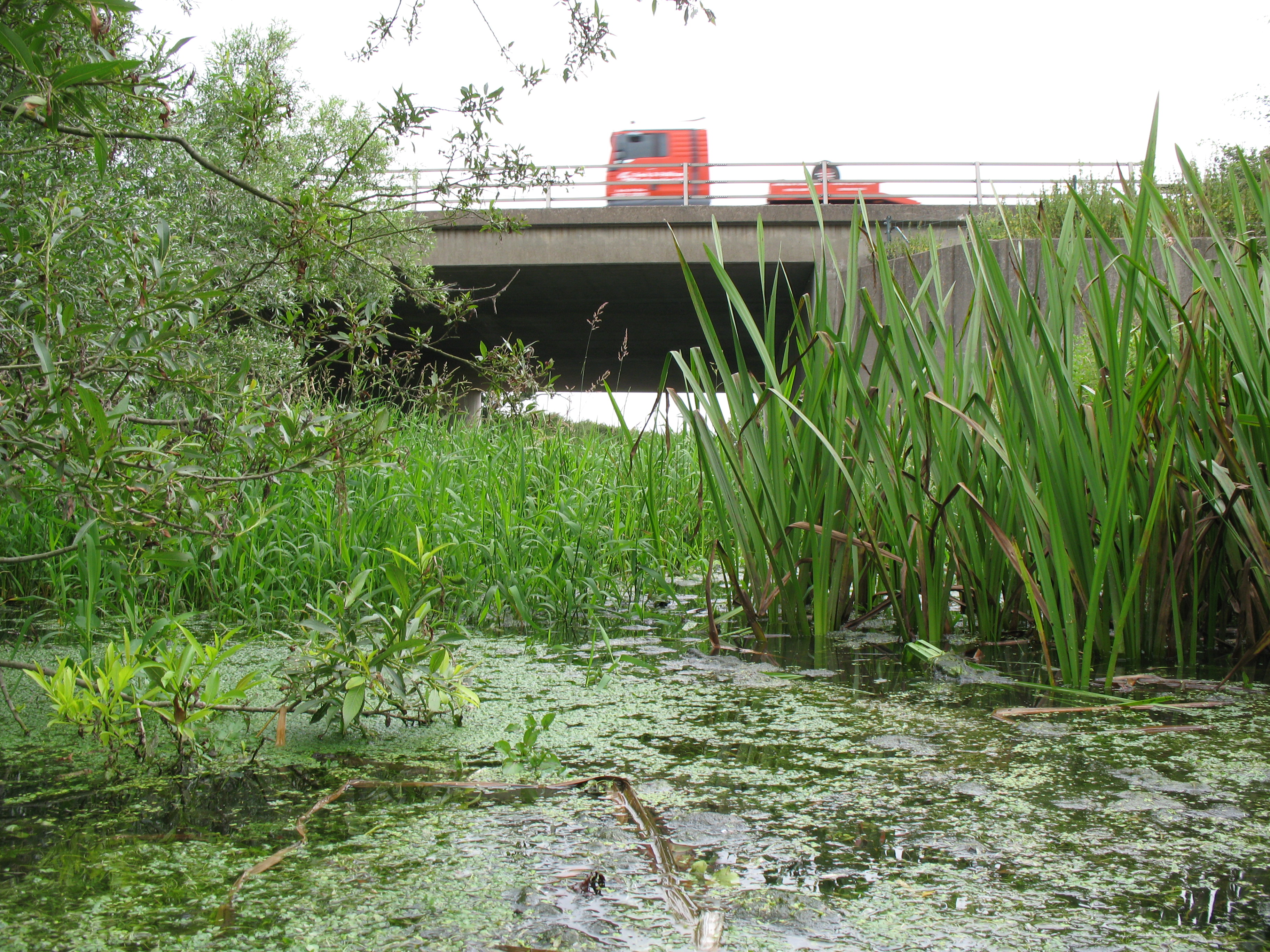 CG501 (Design of Highway Drainage Systems) re-organises HD33/16 to provide a more logical format, with a clear methodology for the selection and design of pollution and flow control measures. These include a more intelligible table indicating the type of attenuation and/or the treatment efficiencies provided by each drainage solution.
A key change in CG501 is the requirement that oil separators shall not be used, and doing so in future will require a 'Departure'. CG501 also recommends that existing oil separators should be replaced, as oil separators are designed to mitigate oils and cannot be relied upon to treat suspended solids or dissolved metals. In addition, oil separators require regular maintenance to function effectively but maintenance is often neglected.
Further significant changes have been made to the DMRB drainage standards, such as the update of HD43/04 (Drainage Data Management System for Highways) into CD535 (Drainage Asset Data and Risk Management), which incorporates IAN147/11 and a number of guidance documents into the DMRB. This combines aspects of risk and asset management of the drainage asset, together with recording data about asset inventory, condition and risk, and flooding and spillage incidents.
The CD535 NAA for England refers to the Asset Data Management Manual, containing detailed information on the asset and incident information to be recorded.
SD15/03 (Implementation Standard for CCTV Survey of Highway Drainage Systems) now becomes CS551 (Drainage Surveys) and has been moved from the Manual of Contract Documents for Highway Works (MCHW) into the DMRB.
It has been substantially expanded in scope from the original single drainage survey method (CCTV) to six survey methods. The technical survey requirements have been updated, content and style standardised across the survey methods, and additional requirements on digital data delivery have been added.
To avoid any duplication, HA37/17 (Hydraulic Design of Road-Edge Surface Water Channels) becomes CD521, incorporating HA113/05, HA119/06 and HA78/96. The new rationalised document has been edited to reflect a typical process for undertaking drainage design with a new section guiding the designer through the required steps in the process.
Additionally, new safety requirements relating to open bodies of water used for the management of road runoff are now included within CD532, formerly HA103/06 (Vegetated Drainage Systems for Highway Runoff).
HA107/04 (Design of Outfall and Culvert Details) will become CD529, and is now significantly shorter as it refers out to the pending CIRIA publication C786 (Culvert, Screen and Outfall Manual), rather than repeating design information and risking future divergence in requirements.
A final important change is that of HA104/09 (Chamber Tops and Gully Tops for Road Drainage and Services) into CD534, the new document incorporating IAN196/17 and IAN197/17, which both considered chamber access covers in running lanes.
The new method of determining skid resistance of chamber and gully tops (developed by WRc Ltd in conjunction with Highways England) has been inserted into the new document as an appendix. The England National Application Annexes (NAA) to CD534 has been drafted to relate to the constraints which are applicable to Highways England's smart motorways and all lane running schemes.
Users of the new DMRB drainage documents will find them easier to navigate, significantly more succinct, and consistent in differentiating requirements, recommendations and advice. Better designs completed more efficiently should ultimately improve the performance of the systems draining our strategic road network.