Following the launch of the first ITS UK manifesto, secretary general Jennie Martin talks to Dominic Browne about horses and driverless cars, nudges over sticks and a future based more on intelligent networks than extra capacity.
Here is a question that might make you think - when it comes to transport, which has more in common with a car, a horse or a driverless car (connected and autonomous vehicle)?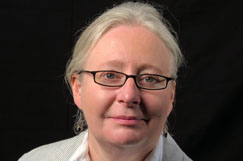 Jennie Martin says there is a strong case for it being the former not the latter.
The car, she suggests, was not as much of a revolution in transport as you might think. Both a horse and a car are privately owned and privately driven/ridden, carry a small number of individuals and both must be maintained at the owner's expense. They also both require large storage facilities, in which they spend most of their time.
The point Ms Martin makes is that we may need to look at autonomous vehicles in a whole new light.
'There has been a failure of imagination [over autonomous vehicles]. To get the most out of the concept we need to start thinking about them as something completely new. Where autonomous systems work best currently is where they are segregated - such as the DLR or the Heathrow pods.'
'The general public thinks they are going to own these things,' Ms Martin adds doubtfully.
She also adds that automation is not a revolution, or at least not one that comes out of the blue, but rather 'the logical point of more and more joining up with connected vehicles and infrastructure'.
'In the short-term what has much to offer in terms of safety and the environment is getting vehicles and infrastructure to talk more and more.'
Ms Martin's thinking about driverless cars (and horses) is illustrative of ITS in a wider sense - systems-based logic is at its heart, and it has to consider lateral and counterintuitive thinking.
The writer Julian Barnes once quipped to the effect that a philosopher is someone who doesn't take common sense for an answer. Considering his brother, a philosopher, he wrote: 'He thought logically, and then acted on the conclusion of logical thought. Whereas most of us, I suspect, do the opposite: we make an instinctive decision, then build up an infrastructure of reasoning to justify it. And call the result common sense.'
How much do we do this with actual infrastructure? The question lies at the heart of the intersection and integration of physical capacity and ITS.
In every profession, there are things that the public would consider common sense but those in the profession know it is not that simple, such as the issue of induced demand i.e. extra capacity creates more demand and, in turn, can create more congestion.
The topic comes up because ITS UK has just launched its first manifesto, as opposed to previous mission statements, and it contains the almost throwaway but radical proposition that 'by 2030, transport technology will be the first option for improving access and connectivity, ahead of building new capacity'.
This raises the question of why 2030? Indeed, why not now? Ms Martin says: 'Induced demand is an absolute fact and it happens not just with cars and lorries but also with cyclists.
'People outside the profession find it hard to get their head around it. The problem is in general these issues might not be thought about and so decisions are made that are not necessarily best but they have always done it this way.'
Public perception is a 'big factor' in this she says. 'Anything that is done in transport has to be approved and funded by democratically elected politicians and if the general public feels very strongly that the solution is building a new road, then the policy is bent towards that.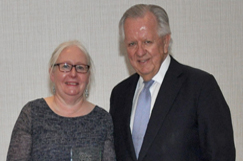 'We fight our corner. By and large, the public gets the transport network it thinks it wants. It may not like it when it gets it. We are reaching out to change perceptions.'
She points out that the ITS sector has become more mainstream in recent years and more able to influence decisions.
(Picture above right, Ms Martin recieving an award from former transport minister Steven Norris).
'I have been in ITS UK since 1998. The tech sector was considered niche and optional then. Now anyone constructing a road would consider technology. By 2030 I think professionals with a problem with a road will consider technology first. We are getting better at integrating our practices with engineering and construction. For too long in ITS, we saw ourselves as specialists but in recent years people work in ITS from all sorts of backgrounds, from technology to psychology.'
Behavioural psychology could be increasingly important in the years to come, Ms Martin suggests. She points out that the DfT has its own 'nudge unit', looking into 'behavioural science that can help us get better at understanding human behaviours'.
She also highlights how the sector can now better understand how humans interact with infrastructure and the choice architecture of transport through gamification and virtual simulation.
'I don't see any future for the stick approach. I have much more faith in understanding human behaviour,' she says.
For instance in road charging or congestion schemes, the key to success is transparency she argues.
'If you look at charging schemes that have been successful they are very clear about where the money is going and there are no suspicions that the money is being hived off to other areas. People do believe the money is spent on transport.'
ITS UK is in an interesting position to guide future policy towards this 2030 horizon. Formed in 1992, it is the oldest national ITS society and currently has around 150 corporate members, 40 student members and about five retired members. Out of these, there are 30-35 executive members and each executive member nominates someone for the board.
Funding comes from membership subscriptions and usually amounts to a turnover of between £250,000 and £300,000 so it has a fair amount to work with. However, it is largely apolitical and should not be seen as a trade lobbying group.
As Ms Martin says: 'The members of ITS UK include the likes of Highways England and Transport for London. We are not a lobby group as we can't lobby ourselves.'
There might appear to be a conflict between Highways England's road building plans and a future where the policy is angled away from new capacity. However, this somewhat underestimates Highways England, which is investing in and trialling future vehicle to infrastructure connectivity and ITS systems as much or more than anyone.
The manifesto, of course, gives ITS UK a platform to lead from. Of its 10 succinct points, Ms Martin highlights the most important to her personally - though of course, they are all core to ITS UK's plans.
'Number three "be a knowledge-sharing hub for innovation and best practice". If we only do one thing it would have to be number three. Without that, I don't think there is any point in us being here.'
Highly relevant in the post-Brexit world, another important ambition is number five 'promote the UK's transport and technology expertise abroad'.
Ms Martin says this is somewhere ITS UK has a major responsibility not least because there are few others in a position to take on such a role.
And then number 10 'champion the role transport technology can play in improving the environment'. This is somewhere ITS UK has already played a leading role having set up an environmental forum in 2001.
'I sense a change in attitude to global warming, environment and sustainability. I think it feels very real to the younger generation. In the next 10 years, there will be a much stronger pressure to deal with carbon.'
One area that ties all these issues together, from automation to congestion, to network optimisation to more environmentally sound modal shifts, is the concept of Mobility as a Service (MaaS).
Ms Martin has her doubts about the term, 'but the concept of using an app to have all the information they need for payment, fares, transport methods etc, that is so important and revolutionary'.
So why have we been so slow, except London, to move closer to smart ticketing let alone full MaaS platforms?
'I think a big reason it has been so hard is because of a lack of the skills needed. We are short of the data specialists who can make this happen, who can take data feeds and integrate them with others. We need to think about the practical side and speak more to the actual IT crowd the programmers etc to make sure we can do it. The best driver for MaaS is that the operators will see a benefit. A MaaS service that works should generate more trips.'
ITS UK may have once been niche but it is now taking centre stage. With original thinkers like Ms Martin helping lead it, and a sensible manifesto to build on it is ready for its moment in the spotlight.