As FM Conway closes in on its 60th birthday, Dominic Browne speaks to the man at the top, Michael Conway, about life in the hot seat, growing a family business and standing up for the sector.
The FM Conway headquarters in Sevenoaks is an impressive building. Two wings of glass sweep round to announce the company's logo and motto on a proud frontage – 'great people, great work'.
The firm does exactly what it says on the brickwork.
The company website tells how it all began in 1961 when Francis (Frank) Michael Conway 'took the bold decision to replace his family car with a lorry'.
Raised in poverty in Northern Ireland, Frank came to Britain in 1943 and worked repairing airfields during the war. Afterwards, he worked on the roads with big contractors before taking the risk and setting up on his own. He started with four people. The company now has around 3,300 staff.
When the business was passed down to Frank's son, Michael Conway, in 1981 it increased turnover to £1,000,000 in just four years. Although Mr Conway admits he had a bumpy start.
'We took on a job that was completely outside our comfort zone putting in a subway in Waltham Forest. When you are a family business you expect to jump in. I was not born to be a civil engineer; I was a mechanical engineer. I never went to university, I went to college. When we had this job in Waltham Forest I had to jump in and learn things. We got through it all. And that really got me into the industry. Probably a baptism of fire. It addressed things very early on in my life. One thing I learned was that taking huge risks was not the way to run a business. Not in London anyway.'
A sensible approach to expansion while maintaining a much faster pace to innovation has been the strategy ever since – something which could make another motto for the company – along with a commitment to self-delivery.
'Self-delivery is the hard road. It's far easier to send a tender out to sub-contractors and pass the risk on to them but then you are giving away margin. I always felt at our level with what we were providing to councils the margin wasn't there to give away and that is not what the council wanted. They wanted a situation where they know me and the foreman and the plant driver. So, communication is quite flat. I learned at an early age that if you can keep that communication flat and talk to people directly it can have a big influence. That model has not really changed. We just have got bigger and better at it.'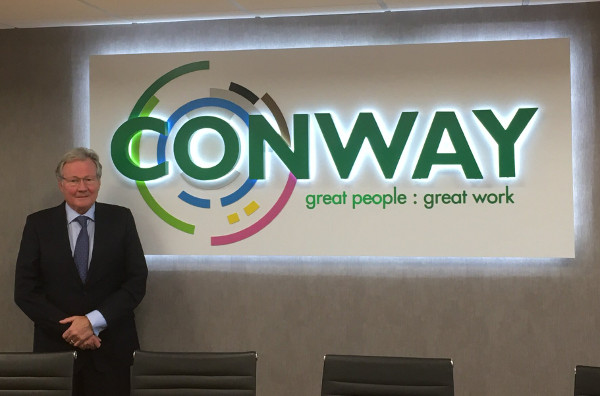 Mr Conway has a manner to suit this approach – equally at ease in the boardroom as getting his boots muddy on site. He has a friendly, down-to-earth persona that belies a sharp mind. As it is the festive season, you could picture Mr Conway being given some modern gadget for Christmas and wondering what on earth it is, then a moment later mastering it, then a moment after that using it to play a prank on the rest of the family.
As a shrewd businessman, Mr Conway keeps an eye on margins and only expands where and when it is possible to keep them. There is much to be admired in this strategy in the post-Carillion infrastructure market. Two good examples of the FM Conway approach can be found in asphalt production and recycling.
'We started with no asphalt plants 10 years ago; we now have seven. There is no reason to think we won't own more but I would like to grow organically so we identify the work and put an asphalt plant there.'
While the company has drainage and traffic management teams that work in the supply chain all over the country, when FM Conway operates as a Tier One client the work is in part linked to the asphalt plants.
'To some extent, we work within areas around the plants but we also identify opportunities and gaps in the market,' he says.
For instance, it has a strong base in the South East, particularly London – it has held the maintenance contract in Merton for some 40 years – and Mr Conway admits he would be unlikely to take work in the North of Scotland. However, the firm has won a place on Highways England frameworks in the West and East regions.
Another area of sensible expansion and fast innovation is recycling.
'We import our bitumen and we do a huge amount of recycling. We don't send much to landfill at all. We put our first recycling plant in about 18 years ago. We do aggregate recycling, so we take the "white" off – paving, kerbs, slabs and sub-base – and we will crush it and wash it and it will either go into type A, or aggregates for concrete.
'Or, we use RAP (reclaimed asphalt pavement) which goes back into the asphalt. When we started doing that 10 years ago we had so much we didn't know what to do with it. Now it's a commodity. Our quarry is linear. We walk on it every day.
'Our asphalt plants have twin drums instead of a single drum. So we have a drum to heat the RAP and a drum to beat the virgin aggregate; that's what allows us to get the 80% RAP in the asphalt.'
When it comes to using rubber or plastic in roads, Mr Conway has looked at this but is happy to let others 'cut their teeth on it' and besides has enough to work on with RAP.
'We have enough trying to put 50% RAP in. We did a job in Westminster where we put 80% in.'
FM Conway also did a job for Transport for London – which is thought to be the first time the transport authority used large quantities of RAP – laying an asphalt surface course containing 50% high PSV recycled aggregate, resurfacing over 20,000 metres on the A40 in west London.
On top of this FM Conway did a trial of 50% RAP on the M25 – thought to be the highest level in the strategic road network.
FM Conway's safety record is also impressive, with the CONWAY AECOM joint venture enjoying three years without a reporting of injuries, diseases and dangerous occurrences regulations (RIDDOR) incident. A secret to this success is training as well as one of Mr Conway's central pieces of advice to staff: 'Get out on-site, talk to the people on the frontline and if they are not happy to get it sorted.'
Away from the frontline, Mr Conway is outspoken in his efforts to stand up for the sector. So, in no particular order:
Permit schemes are a 'disaster', and should not treat contractors the same as utilities, and could hold up the roll-out of fibre-optic broadband.
The reverse VAT changes coming in on 1 October 2020 [see Highways Aug/Sept, Legal – p56-57 and October, Legal – p62-64] will hit the supply chain hard and could see firms go bust.
The IR35 single status employee changes coming in next April run the risk of putting firms in financial trouble as well. If a self-employed worker only has jobs at one firm they could be deemed to not be self-employed and 'because there is a shortage of staff, some people will take the risk and carry on employing these consultants etc. but the revenue will come to the employer for the back tax'.
The continued hits of the Apprenticeship Levy, the Construction Industry Training Board levy and the Aggregates Levy place an unfair burden on infrastructure that no other sector faces and it is disappointing the sector has taken this lying down
Set to come into force in 2021, the proposed immigration restriction of a minimum-salary requirement of £30,000 a year is a bad idea and could jeopardise the major infrastructure plans the country has.
After a short absence recently, it is good to have Mr Conway back in fighting form and in the highway sector's corner. Any signs of retirement should be banished from your thoughts. 'It's a great business. I am happy with my lot. Right now, when I get up in the morning I want to come to work.'