Our broken transport project procurement processes are stifling innovation – to thrive we urgently need change, argues Dan Harvey, executive director, UK transport at Ramboll.
As the transport industry prepares for the prospect of a fourth industrial revolution, embracing digitalisation, automation and innovative techniques for the design and construction of future infrastructure has become ever more essential.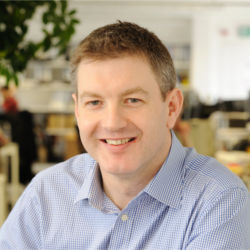 We are benefiting from the skills of coders and software developers, who are now working alongside the more traditional roles of the engineer, transport planner and architect.
Such revolution will drive the industry towards innovation, making the potential for shortened programs, improved safety, lower carbon emissions and lower costs to become a reality.
But, is our industry procuring for this future, or procuring based on outdated models?
Outdated procurement processes exist in our industry and hold us back. Many of the major clients – including Network Rail, Transport for London and Highways England – procure their work through large frameworks, where bidding can last for years and prove costly. This may be manageable for the larger diverse players but for smaller businesses this is naturally restrictive, preventing the adoption of new innovations.
While it could be argued these long-term frameworks or partnerships allow parties to collaborate and drive efficiencies and innovation in a long-term stable environment, there is also a danger of becoming a closed shop, offering little incentive for innovation unless there are real metrics to support adoption. Therefore, many such long-term appointments are not delivering the efficiencies and forward-thinking value that could be realised.
Our procurement methods have changed little in the past 20 years – lowest price remains king, and in many cases, this drives the wrong behaviour.
Most tenders now include a quality and price component but demonstrating how you are innovating and the value this could bring, together with the challenge of overcoming a lower price competitor, is bordering on impossible.
Ultimately, this points to issues concerning how tenders are evaluated and understanding where value can be derived from.
The metrics used for determining whether a tender is selected or not have not been adjusted to support the new wave of technological innovation.
Pricing for consultants has traditionally been a lump sum or evaluated based on a daily rate per grade of staff – i.e. a senior engineer, or a technician, etc. But what about the coder and the product designer? These new roles are adding real value to clients but in many cases are not being evaluated from a commercial or quality perspective.
For a contractor, value is often evaluated on the cost of placing a cube of concrete, moving a square metre of material or constructing a bridge. But are they incentivised to place less concrete? Move less earth? Current procurement standards need to give greater weight to the value that new materials, processes and off-site methods for construction can have on improving construction and safety, and reducing maintenance.
Also we need to ensure innovation is an ongoing process throughout these projects, and therefore updated evaluation metrics must also account for future methodological developments.
The industry has recently thrown up a number of brilliant examples of innovation, not least the 20 projects that have now received up to £20m in funding by Innovate UK and Highways England to address key issues faced by the transport sector.
Yet, in terms of investment into research and development, we still lag far behind other industries. But when clients continue to champion the lowest cost tenders, what incentive is there for businesses to invest in innovation?
In an industry that appears to be on the cusp of a technological revolution, current procurement processes seem to present a significant barrier to realising the benefits of innovation and automation. To address this, we need th following steps:
We need to be able to demonstrate where we are innovating, the potential impact this can have and most importantly what value can be derived from this
Procurement must ensure that innovation and research is properly evaluated and given a substantial weighting in the tender process
Ongoing metrics need to drive the right behaviour for the duration of the project. A shared set of metrics across the industry can drive innovation and behaviours to the benefit of all.
Creating an environment that can help foster innovation must be a key priority for our industry. With new technologies being developed every day and other sectors shifting to new digital methods, transport can't afford to be left behind.
Developing procurement methods that recognise true value can help us accelerate driving efficiency across our industry.