The Construction Leadership Council (CLC) has released a 'roadmap to recovery' for the infrastructure sector to help tackle the economic fallout of the pandemic.
The three-stage strategy would be delivered over two years and lay the foundations for an improved sector, more productive and collaborative.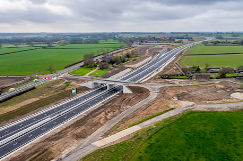 It would be based on:
Restart: increase output, maximise employment and minimise disruption (0-3 months);
Reset: drive demand, increase productivity, strengthen capability in the supply chain (3-12 months); and
Reinvent: transform the industry, deliver better value, collaboration and partnership (12-24 months).
Across the strategy, the industry would move from maximising employment and minimising disputes in the short term, to adopting new procurement models and new technologies in the long term.
Core asks include another year-long delay on the reverse VAT reforms until 2021, a speeding up of the early stages of construction projects by public sector clients and more flexibility throughout the industry.
The CLC also asked for the creation of four sector working groups - for infrastructure, housing, RMI (repair, maintenance and improvement) and social infrastructure, and construction - to help develop strategies and liaise between government and industry.
Failure to act risks the industry 'lapsing into a longer-term recession, which erodes capability and skills, and leaves a smaller, weaker sector as a legacy', the CLC warned.
Joint chair Andy Mitchell said: 'The unprecedented challenge of coronavirus calls for unprecedented solutions. I am delighted by the way that the industry has collaborated at pace to develop this plan, targeting those interventions that will help the industry get back on its feet as quickly as possible.'
Rebuilding a better sector
Under the roadmap, the CLC set its sights on driving a 33% reduction in lifetime costs and a 50% reduction in delivery times.
It has also set the target of improving design, product selection, manufacturing and construction processes to achieve a 50% reduction in greenhouse gases as part of the pathway towards net-zero.
There are also hopes that the new normal would see a transformation of the business model to create a more collaborative, fairer and resilient industry.
Any slow down in infrastructure has a massive impact on the wider economy with the UK construction industry worth some £413bn in 2018, with around 2.3 million workers accounting for around 8% of GDP.
Impact so far:
While many infrastructure works, notably on the strategic road network, have continued throughout the crisis, construction has felt a significant impact:
The Office of National Statistics reported construction activity fell by 2.6% in Q1 2020, and by 5.9% in March.
Constructionline reported that of a survey of 4,500 firms in April, 47% had reduced their activity by 80% or more.
The Construction Products Association estimates that construction output will fall by 25% in 2020, with the largest falls in activity in private housing (-42%), commercial construction (-36%), and private repair maintenance & improvement (-35%).
The Federation of Master Builders reported 68% of builders had stopped 91% of projects in April.
Bouncing back
The recovery process is expected to be gradual and the CLC warn that it could take two years to fully recapture the ground lost, with most of the recovery taking place in 2021.
It could also be hampered by increases in costs and delivery times as a result of implementing social distancing, further eroding already low margins.
Another issue is that the construction and built environment sector 'is an ecosystem, and requires a critical mass of activity to restart', which is likely to require supply and demand side interventions to sustain, the CLC advised.
The sector should focus on what it needs to deliver that critical mass - particularly in key areas - and act quickly.
The road to recovery
The CLC strategy gives details of a range of actions and who would be responsible for them at each of the three stages.
In restart this includes:
Public clients are asked to confirm timescales for schemes close to the market and expedite design and planning phases of projects
The Construction Industry taskforce and the business department BEIS should help share information about materials and product supply and demand
Local authorities are asked to extend working hours and planning expiry dates wherever possible.
Actions should also be taken on skills, including a potential talent retention scheme and distances learning for apprentices.
For the reset, this includes:
CLC has called for the Treasury to delay the reverse charge VAT reform for another year until October 2021 and for ministers to agree to flexibilities to the apprenticeship levy.
There should also be wider apprenticeship models, more support for direct employment and new ways of working to embed collaborative business models.
CLC is also asking the government for a commitment on a regeneration plan across the UK's towns and cities to support its 'levelling up' agenda.
In reinvent, this would include:
Clients fully implementing the presumption to offsite working, with the adoption of digital and manufacturing technologies at scale, as well as embedding 2030-2050 net-zero carbon targets in infrastructure and housing developments.
There should be more guidance on new business models and collaborative procurement and it also called for the roll-out of the Construction Innovation Hubs Value framework, with industry embedding it in projects by September.