A £19m package of cycling schemes in Cornwall risks going significantly over budget and missing what is already a revised delivery date, auditors have warned.
The Saints Trails, to be delivered by Cornwall Council, will create a 30km network of multi-use trails linking Newquay, Perranporth, St Newlyn East, St Agnes and Truro.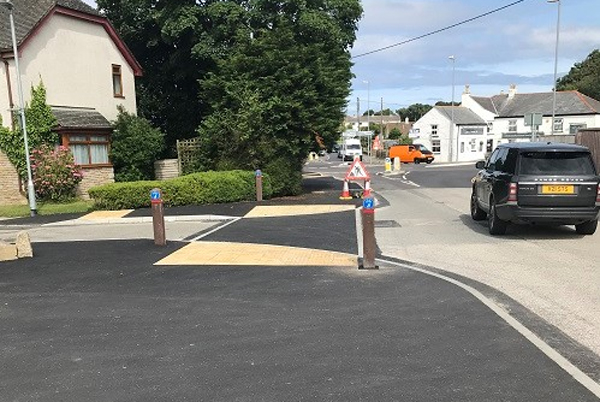 Works took place last year at Goonhavern on the Perranporth to Newquay route
In 2019 the council secured £17m from Highways England towards the project and pledged to provide a further £2m.
The project, comprising four new routes, was initially supposed to be delivered by March of this year but, as Highways has reported, this was subsequently revised to March 2022. Highways England has admitted that main construction work 'is expected to commence in 2021/22'.
A report to the council's Audit Committee stated that the initial timeline failed to take account of the timescales involved for compulsory purchase orders and potential public enquiries to acquire the land and that these processes 'could result in the land not being acquired until June 2023'.
The report also revealed that the most recent (September 2020) estimate of the scheme's total cost suggested that it had increased to £25.07m against a budget of £19.1m.
While an anticipated £2.95m from the European Social Infrastructure Fund would reduce the forecast deficit to around £3m, the auditors expressed concern that failure to stick to Highway's England's timetable could see it claw back some of the pledged funding.
The report also criticised the council for not classifying the Saints Trails as a 'strategic' or 'critical' project 'despite its size and public profile'.
It classified all of these risks as 'high'. The auditors also identified a 'medium' risk that the trails 'could fall into neglect if there is no budget or contract for post completion maintenance'.
It noted: 'It has been clearly stated from the outset of the project that Cornwall Council's Highways Service will take on the maintenance of the trails. However, it is unclear if there is an allocated budget for the first 12 months after the works are completed.'
In a statement, the council said: 'Given the scale of the project and the need to undertake extensive liaison with landowners and extensive environmental surveys, we agreed with Highways England, the majority funder of the project, to review the timeframe for delivery.
'The cabinet has agreed a budget of £19.1m for the project – we regularly review project costs to ensure we can stay within this budget. The figures outlined in the Audit Committee report highlight the costs of the risks to the project at the point in time when the audit was carried out. We continue to update the position on risk as land is secured and the project progresses.'