Highways England is now making 98% of its supplier payments within five days as part of efforts to boost cash flow to the industry throughout the COVID-19 crisis.
The government-owned company said it was 'looking to sustain this level of performance'.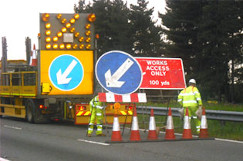 Prior to the coronavirus pandemic, Highways England was paying 74% of all correct invoices for work completed into suppliers bank accounts within five days.
After it was asked by the government to continue working throughout the crisis, the strategic road operator increased industry cash flow - in the week commencing 13 April it accelerated payments to 94.3% in five days and in the week commencing 20 April it hit 97.5%.
'During April we will have also paid a total of £490m to suppliers in order to support supply chain cash flow, this is above the normal monthly levels. Please can you ensure that you also do the same so that cash flows to all tiers of the supply base,' procurement director, Malcolm Dare, said.
Over the last two to four weeks, Highways England has pushed ahead with a number of major activities as it begins work on the second road investment strategy from 2020-2025.
Mr Dare wrote in his regular circular: 'The Smart Motorways Alliance contract (£4.5bn) has been awarded, the A66 design contract (£35m) has entered the standstill period, the Stopped Vehicle Detection OJEU (£32m) has been released, the PIN for the Operations Scheme Delivery Framework (£3.6bn) has been released and the A303 ITPD [Invitation to Participate in Dialogue] has been released. These are all significant activities that support the SRN in the short to long-term and they have not stopped due to C-19.'
Mr Dare also reminded workers that they can book COVID-19 tests online through the government, which opened up testing to key workers such as highways and transport frontline staff. It then widened its testing programme to include any worker who could not work from home including those in the construction sector.
Meanwhile, Highways England chairman, Colin Matthews, has come to the end of his second and final term.
A new chair will be announced in the near future, Highways England said.
Mr Dare paid tribute to Mr Matthews saying his leadership 'was fundamental to the creation of Highways England back in 2015 and he leaves us ready and energised for the next five years'.