Highways England's major schemes are currently running £2.9bn over budget as the government-owned company continues to try to get costs under control, according to independent monitor the Office of Rail and Road (ORR).
Following a revision of its first Road Investment Strategy (RIS 1 - covering April 2015 to March 2020), Highways England had to push schemes back into the second road investment period up to 2025 and this appears to be where the brunt of the cost overruns now reside.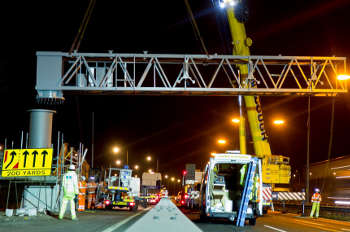 In its annual assessment report on Highways England, the ORR said: 'The revised plans mean that, of the 112 major schemes originally planned to start works in the first road period, 85 are now planned to start by March 2020.
'Funds released by this process have been retained to offset cost pressures elsewhere in the portfolio. The company's forecast total costs for its RIS1 major schemes are currently £2.9bn higher in road period 1 and road period 2 than originally assumed. This partly reflects increased scope for some schemes and immature scheme estimates when RIS1 funding was set.'
Highways England's forecast capital costs for RIS 1 are now £438m higher than its funding despite the cut backs, although it is making progress on cutting this figure down.
'Its [Highways England's] forecast costs have reduced, but remain above funding, partly reflecting delivery of additional work and planned over programming. It is working to manage costs and has instigated a management action plan to address the difference, which has so far identified £164m of potential savings, which will reduce the difference to £274m.'
In 2017-18 Highways England spent £3.4bn, with overall expenditure £162m (5%) above budget. This was mainly due to capital spend of £2.3bn being £141m (6%) above budget. Highways England does appear to be making good progress with its wider efficiency and cost saving targets, the ORR found, although it did ask for 'more evidence over the next year to support the claimed levels of efficiency'.
'The company has a target to deliver £1.2bn of capital efficiency savings by the end of this road period. It has reported £226m of efficiencies in 2017-18. This would bring the cumulative efficiency improvements to its capital programme in the first three years of the road period to £486m, against an internal milestone of £377m. The efficiency reported to date is 29% ahead of its internal target and represents 40% of the target for the first road period.'
Designated Funds
Elsewhere, Highways England appears to be too slow in spending its ringfenced cash. Worth £675m in the first road period, these designated cash pots are split into five areas: air quality; cycling, safety and integration; environment; innovation; and growth and housing.
At the end of 2017-18, Highways England had spent £176m of its ringfenced funds, which is 26% of the total available in this road period. These funds underspent by £80m (43%) in the last financial year 'because of delays on these work programmes, particularly for the air quality fund'.
'There is particular risk to delivering the intended investment through the air quality fund. We propose that it should now review options for addressing this with government,' the ORR said. It also highlighted that on top of the slow delivery against these designated funds, the spending is now backloaded and making the delivery challenges even harder.
Safety
On safety the ORR found that Highways England is at risk of missing its challenging targets of reducing the number of people killed or seriously injured on the network by 40% by 2020, although a change in police reporting has resulted in an increase in recorded incidents.
'The latest available statistics show that 2,005 people were killed or seriously injured on the strategic road network in 20162 – a 12% increase on the previous year. This included 231 fatalities, which is 3% higher than in 2015.'
'One reason for the reported increase in the number of people killed or seriously injured is a change to how police forces record road casualty data. Approximately half of English police forces adopted a new system (CRASH- collision recording and sharing) between the end of 2015 and early 2016. Forces that increase in killed or seriously injured on the strategic road network in 2016, compared to a 5% increase for those forces that did not.'
The ORR did find that Highways England is on track to achieve 90% of travel on 3-star (safety rating under iRAP/EuroRAP analysis) roads by 2020 but failed to give an update on the more challenging task of ensuring that the majority of those roads with 1 star and 2 star rating have improved to 3 star.
Road surfacing
Highways England has made a major push on improving road condition, after missing its target in 2016-17. This year a 24% increase in investment meant that 95.2% of the network did not require further investigation. This is above the target of 95%, and an improvement on the 94.3% recorded in 2016-17.
'It delivered significantly greater volumes on the majority of asset types than it planned, and in-year forecasts show considerable variability. Its renewals delivery was highest in the last three months of 2017-18. Delivering more during the winter months may impact on the quality and efficiency of work,' the ORR said.
Smooth traffic flow
Highways England is demonstrating excellent performance on smoothing traffic flow and keeping open lane capacity, even though traffic on the strategic road network has increased.
'Lane availability on the strategic road network was 98.3% in 2017-18, which is above the target of 97%. Highways England expects availability to reduce during the road period, but remain above target. This reflects the increased work on the network as the RIS1 investment plan gathers pace.
'The company also met its incident clearance target in 2017-18 – clearing 87.9% of motorway incidents within one hour, against a target of 85%. This is an improvement on performance in 2016-17, when it cleared 85.9% of incidents within one hour.'
Despite this road user satisfaction was at 88.7% in 2017-18, which is below the target of 90%, and also below last year's score of 89.1%.
Areas requiring 'focus'
The ORR said the following areas 'require focus from the company in 2018-19':
Customer satisfaction. Implementation and monitoring progress against its customer satisfaction improvement plan for 2018-19.
Efficiency evidence. Further development of top down efficiency evidence to support progress against its key performance indicator.
Ringfenced funds. Increasing the pace of delivery through ring-fenced funds in 2018-19, continuing to strengthen its management of the funds, and addressing the recommendations that are set out in our in-depth review.
Managing costs. Taking action to address the difference between forecasts capital costs and its funding for the road period.
Planning for RIS2. Continuing work to develop plans for the second road period. In particular, developing a robust strategic business plan, and presenting efficiency evidence. Also continuing to engage closely with stakeholders as it develops more detailed plans.