Ella Northey, Balfour Beatty engineering apprentice, was crowned Apprentice of the Year at the Highways Awards 2021. Here, she talks about her journey.
I was 18 years old when I first took the plunge and started on site at Balfour Beatty. Fast forward three wonderful years, and I'm now Highways Magazine's Apprentice of the Year!
You may wonder how I wound up here, so let me take you back to where it all began. At school, I knew I didn't want to go down the traditional path. I didn't want to attend University straight off the bat. I knew that I wanted to explore my options and learn on the job.
While at a careers event in London, I discovered the wide range of exciting opportunities within the construction and infrastructure sector and decided to take things into my own hands, resulting in me securing a work experience placement with Thames Tideway.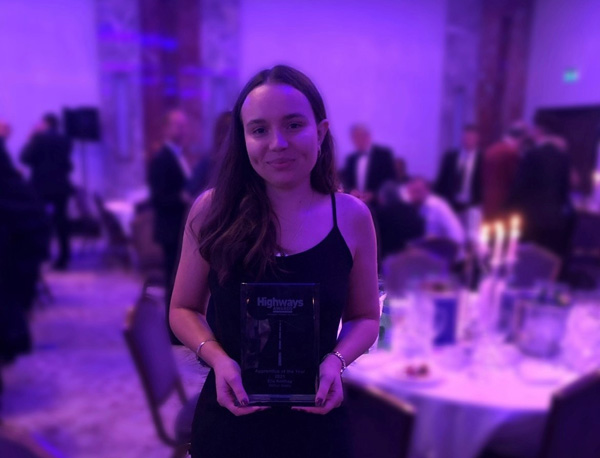 Since having that initial taste of the industry, I've never looked back and that's why I decided to apply for an Apprenticeship position at Balfour Beatty. The team there has provided endless support in helping me find my feet and voice.
Over many weeks and months of hard work, I have progressed from an apprentice with little understanding of the construction world, to a confident employee undertaking a BEng Civil Engineering degree at London Southbank University. I'm currently in year four out of five, which means I go in one day a week and work the other four days as a site engineer.
I was initiated into Balfour Beatty as an Apprentice Site Engineer on the M4 motorway, where I developed knowledge and skills on the job, all while earning a living too. The knowledge I gained while working on the M4 has really set me up to exceed - I was trusted as the sole site engineer while we were re-aligning Junction 7.
Completing an apprenticeship at Balfour Beatty, you receive real-time support and there is lots of camaraderie; the work evolves from simply day-to-day project work to building relationships, a support network and wider people skills.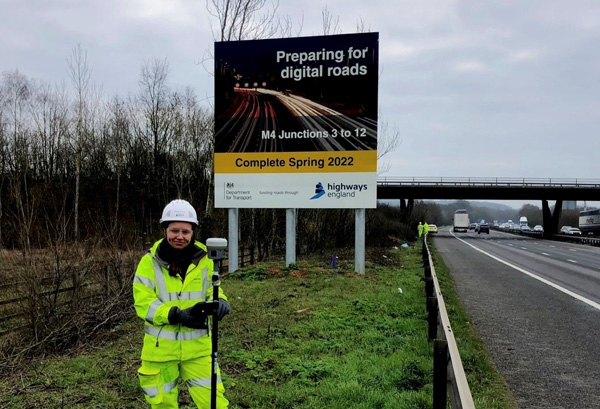 The numerous e-learning modules have also absolutely bolstered the skills and experience I have gained and honed and has supplemented my academic experience. These include health and safety and diversity and inclusion awareness training as well as completing qualifications including a Higher National Certificate (HNC) in civil engineering and a professional Institute of Civil Engineering qualification to boot.
At Balfour Beatty, we're encouraged constantly to share our experiences to benefit others and so when the opportunity arose, I also took it upon myself to become a mentor for another Balfour Beatty apprentice. I also have a National Highways graduate shadow me once a week. It's great to know that others get to benefit from the learnings I've gained through my own Apprenticeship programme.
It is these lived experiences that I believe have helped me become Highways Magazine's Apprentice of the Year. It's a great sense of achievement when your work is acknowledged outside of your immediate team. You can't help but stop, reflect and think just how far you have come and how much you have learned in such a short space of time.
I want others to feel the same as I do. I want to be an advocate for the benefits of completing an apprenticeship. It shouldn't be considered the inferior route. The amount of knowledge and experience you can gain while working on the job really is unrivalled.
And more than that, I want to demonstrate how exciting our industry can be. It's not all muddy boots and hard hats. It's about creating something new; it's challenging, it's about problem solving, it's big, it's interesting and it's about improving the lives of others.
I would encourage anyone thinking of taking the step to do it and don't look back.
The Highways Magazine Apprentice of the Year award was sponsored by the Institute of Highway Engineers.