Five councils will share £600m government cash for highway and other infrastructure to support the delivery of up to 50,000 new homes in high demand areas.
The funding through the Housing Infrastructure Fund (HIF) was announced by chancellor Sajid Javid, who originally launched the fund when he was communities secretary.
It will help deliver new projects in London, Central Bedfordshire and Essex.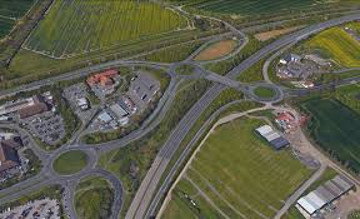 Mr Javid said: 'I want to see more homes built in the places people want to live, so more people realise the dream of homeownership.
'But we need the roads, rail links, and schools to support the families living in those homes, which is why I set up a fund to put in place the infrastructure to unlock new homes in these areas.'
The Treasury said the HIF is designed to support local authorities that want to step up their plans to increase the overall housing supply, make more land available for housing, and deliver new physical infrastructure that supports new and existing communities.
The five projects are:
£218m for the 'Beaulieu Station and North-East bypass' (pictured) bid from Essex County Council to deliver a new train station and road improvements to support up to 14,000 homes in Chelmsford
£156m for the 'Meridian Water' bid from Enfield to deliver rail works, road infrastructure, land remediation, flood alleviation and utilities to support up to 10,000 homes
£99.9m for the 'Tendring Colchester Borders Garden Community' bid from Essex County Council to deliver a new single carriageway link road and works to support up to 7,500 homes
£69.6m for the 'Transformational Growth in Biggleswade' bid from Central Bedfordshire to deliver a new secondary school and transport (highways) infrastructure to support up to 3,000 homes
£80.8m for the 'East London Line – Growth Capacity' bid from the GLA to deliver transport upgrades to support up to 14,000 homes