The delayed Aberdeen bypass has fully opened, despite an ongoing row between the Scottish Government and the contractors on the project.
The final section of the 36-mile Aberdeen Western Peripheral Route (AWPR), between Craibstone and Parkhill, opened to traffic on Tuesday (19 February).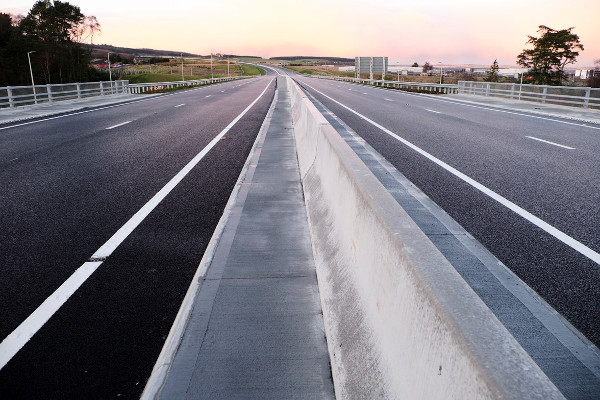 Transport Scotland said the opening followed consortium Aberdeen Roads Limited (ARL) providing the necessary technical assurances for the River Don Crossing, which were required before the new section of road could open.
The Scottish Government's cabinet secretary for transport, infrastructure and connectivity, Michael Matheson, had previously warned ARL, which is in a legal dispute over the project, not to delay its opening 'in service of misguided commercial tactics'.
The road was procured for a fixed cost of £745m but the remaining firms in the consortium – Balfour Beatty and Galliford Try – have repeatedly posted losses as its costs rose to around £1bn.
Last week, announcing a further £26m loss on the project, Galliford Try said it had made 'significant claims against the client and others'.
A Transport Scotland spokesperson said: 'The estimated total cost of the AWPR scheme remains at £745m. ARL bid for this scheme with its eyes open and while it is not unusual for claims for additional sums to be raised by a contractor on large, complex infrastructure projects, not all claims necessarily have merit.
'The Scottish Government is not willing to pay over the odds for the road on account of mistakes or miscalculations that are of the contractors' making.'
Announcing the opening of the road, Mr Matheson said: 'This new section of the AWPR between Parkhill and Craibstone now allows the full benefits of this transformational project to be fully realised. Since the major part of the road opened in December 2018, the overwhelmingly positive feedback has demonstrated the positive impact that infrastructure can bring about in people's lives, the quality of their environment and the economy as a whole.
'We will continue to work constructively with Aberdeen Roads Limited as it moves into the operational phase of the project and it builds stronger relationships with the community it now serves.'
Aberdeen City Council co-leader Jenny Laing said: 'The opening of the AWPR, a much needed and long-awaited development, will have as significant an impact from an economic perspective as it will in terms of transport.
'The transformation of Aberdeen continues at great pace. It's vital we keep building momentum and celebrate the change that we're all part of, with many more important dates to look forward to in the months and years ahead.'
This new 4.5 mile (7.5km) section of road links the southern Craibstone to Stonehaven and Charleston section with the Parkhill to Blackdog section in the North.
It follows road openings between Craibstone to Charleston and Stonehaven in December 2018, Balmedie and Tipperty in August 2018, Parkhill and Blackdog in June 2018, and the Craibstone Roundabout and Dyce Drive section in September 2016.